"Project Runway" judges name Marshall winner
NEW YORK (Reuters) - Leanne Marshall, a soft-spoken designer from Portland, Oregon, won the fifth season of the U.S. fashion reality show "Project Runway" on Wednesday, October 15th in the hit Bravo show's first all-female finale.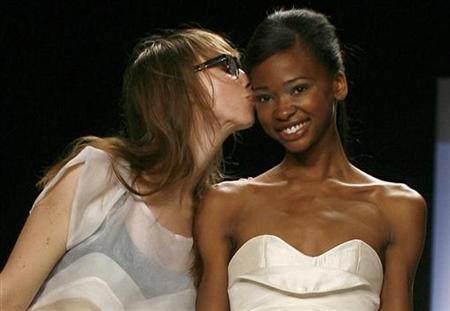 Marshall, 27, impressed the show's judges with a wave-inspired collection rendered almost entirely in shades of white, beige and gentle milky blues, which also illustrated the architectural, structured style that served her well in the season's later episodes.
"Oh my God," said Marshall, whose low-key demeanor was a marked contrast to the more typical out-sized personalities of the series' other contestants. "I'm on my way ... It's unreal," she added.
The winner received a $100,000 cash prize, a new Saturn hybrid automobile, a spread in Elle magazine, a year's professional representation, and invaluable industry exposure from a show that been a hallmark in Bravo's rising fortunes.
Judges Michael Kors, Nina Garcia, Heidi Klum and guest judge Tim Gunn, who also served as the contestants' mentor, praised the cohesion of her 10 designs shown in September in Bryant Park at New York's fashion week, design sense and use of sustainable fabrics.
"The point of view was so palpable for all of them," said Gunn of the three woman finalists. It was the first time the show has featured a field of females at its end.
The others were Kenley Collins, a New York designer who had become known for her petulant attitude, and Korto Momolu, a native of Liberia. Collins showed a youthful Alice in Wonderland-inspired collection, while Momolu created vibrant, heavily pleated looks influenced by her African heritage.
The fifth season of "Project Runway" marks the show's last on the Bravo cable channel before moving to Lifetime television and switching locales from New York to Los Angeles.
This season's weekly challenges ranged from designing a look for actress Brooke Shields to creating an outfit by recycling automobile parts.
"Project Runway" has spawned a slew of successful copycat shows. Gunn also has his own show on Bravo.
Bravo is owned by NBC Universal, the media wing of General Electic Co. The Lifetime cable TV network is owned by Hearst Corp and The Walt Disney Co.
(Editing by Patricia Zengerle)
© Thomson Reuters 2023 All rights reserved.