Apparel retailer American Eagle CEO steps down
American Eagle Outfitters said its chief executive of two years, Robert Hanson, would leave the company in a surprising move at a time when U.S. teen apparel retailers are struggling to attract shoppers and boost sales.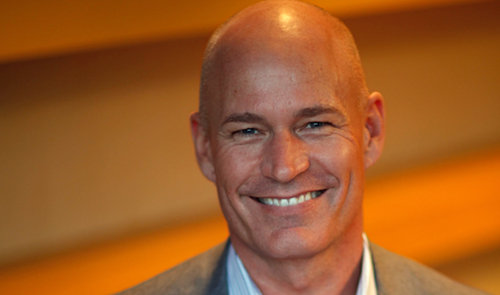 Robert Hanson
American Eagle's shares fell as much as 5 percent in trading after the bell.
Analysts said Hanson's departure was all the more surprising given that last week he attended the ICR XChange investment conference for retail, apparel, restaurant and general consumer industries.
"There did not appear to be any sign of impending change when management openly interacted with investors last week," Piper Jaffray analyst Stephanie Wissink said in an email.
Hanson's departure comes as the company and its rivals Aeropostale and Abercrombie & Fitch are facing intense competition from "fast fashion" chains such as Sweden's H&M and Inditex's Zara, whose trendier and cheaper clothes are resonating with young shoppers.
However, under the leadership of Hanson, American Eagle has been faring a little better than its peers as it targets a wider age group with more fashionable clothing.
"... Now in addition to fighting for customers, teen retailers may well find themselves fighting for talent," Nomura Equity Research analyst Simeon Siegel wrote in a note.
"Without a clear successor, it is interesting to note that AEO will be looking for a new CEO at the same time that ANF has begun its search for brand presidents for its Hollister and A&F divisions."
American Eagle said Executive Chairman Jay Schottenstein would serve as interim CEO. Schottenstein was previously the CEO of the company between March 1992 and December 2002.
HOLIDAY SEASON WOES
Hanson, who joined American Eagle in January 2012 after 23 years at Levi Strauss & Co, spearheaded a strong year for the company by reducing markdowns and getting new product into stores faster.
At the time, analysts lauded American Eagle's product selection, which they said resonated with teens.
However, by mid-2013 the company and its rivals Aeropostale and Abercrombie & Fitch had started to see teen shoppers increasingly shift to the trendier and cheaper merchandise sold at "fast fashion" chains.
The string of weak results were making investors impatient.
In December, an Abercrombie & Fitch shareholder urged the company to replace CEO Mike Jeffries, saying the company needed to chart a new course after seven straight quarters of same-store sales declines.
However Abercrombie extended its CEO's contract by at least a year.
The shortened 2013 holiday season added to the woes of the three retailers, forcing them to discount heavily to attract shoppers.
Earlier this month, American Eagle said comparable sales for the fourth-quarter ended January 4 fell 7 percent, while total sales fell 2 percent.
At that time, CEO Hanson had said traffic and sales through Christmas week were on the low end of the company's expectations and, coupled with the deep discounts, were putting pressure on margins and earnings.
American Eagle on Wednesday reaffirmed its earnings forecast of 26 cents per share for the holiday season quarter.
The company also said Vice Chairman and Executive Creative Director Roger Markfield would postpone his retirement and continue in his current role.
The company's shares were down 4 percent at $13.77 in extended trading. They had closed at $14.31 on the New York Stock Exchange on Wednesday.
© Thomson Reuters 2023 All rights reserved.