Bold London fashion seeks way out of recession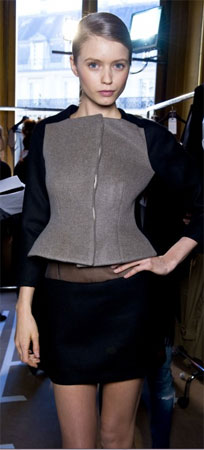 Stella McCartney A/W 2010. Photo : PixelFormula
(Reuters Life!) - London Fashion Week is emerging from the shadow of a recession that has hung over the industry the last few seasons, with confident designers presenting bold creations to put the city on a par with other catwalk capitals.
London has produced some of fashion's biggest names, such as
John Galliano
,
Alexander McQueen
and
Stella McCartney
, and its designers are regarded as among the world's most avant garde.
However it has struggled to maintain a profile on a par with Milan, Paris or New York. This season designers have sought to win over recession-weary shoppers, showing London can have as much clout as the other three cities.
"I think London is on an all time high," designer Julien Macdonald said after his spring/summer 2011 show. "We're there, we're successful, we're making a living for ourselves. We have all the young designers and they're amazing."
Britain has some of the best fashion colleges, designers and retailers in the world and events like London Fashion Week as well as a retail environment with highly desirable shopping hubs help to attract tourists.
"This is the flagship for a 21 billion (pound) industry and I think you can judge for yourself by the number of people who are here that this can only be good," British fashion reporter Hilary Alexander said at a packed show for
Vivienne Westwood
's Red Label.
The direct value of the fashion industry to the British economy is nearly 21 billion pounds ($32.77 billion) out of an economy worth just over a trillion pounds.
Without the backing of big design houses many new talents have decamped elsewhere to nurture their careers. But the return of some brands to London's catwalks from abroad is a boost.
"I love that
Burberry
are here again. I really feel like (London is) the epicenter of fashion in terms of the fashion that we aspire to and the clothes that we like wearing," said actress and designer
Sienna Miller
.
Miller said she and sister Savannah, who are behind the Twenty8Twelve brand, were sharing their showspace with other designers. "That feels really collaborative and great."
Champagne and canapes at shows have become rare at a time of belt-tightening, but several designers here served up goodies.
At Twenty8Twelve where the Miller sisters presented short dresses with petticoats and sleek shorts, guests were treated to breakfast and those in the front row received a goody bag. Macdonald hosted his show in London's historic Banqueting House, where waiters served pink cocktails, decorated with rose petals.
Women walked down the catwalk moments before the show, spraying the air with perfume to help set the mood for his show that consisted mainly of frilly, lacy dresses.
There has been also no shortage of front row celebrities with names like
Jude Law
,
Pamela Anderson
and Elle Macpherson.
The luxury goods industry, whose revenues fell 8 percent last year according to U.S. consultants Bain & Co, is climbing out of its worst downturn in decades, buoyed by traveling shoppers from emerging markets.
"I don't see things getting any worse," designer
Matthew Williamson
said, after presenting his collection of jackets and dresses decorated in metallic beading. "Today it is important for a designer to be doing what they are known for."
(Editing by Paul Casciato)
© Thomson Reuters 2023 All rights reserved.