Clothing discounts set for snip as costs rise
BANGALORE (Reuters) - Just as recession battered consumers are trickling back to malls, clothes makers in the United States face a tough choice.
Squeezed by ballooning raw material, labor and freight costs, manufacturers from Nike Inc (NKE.N) and VF Corp (VFC.N) to Hanesbrands Inc (HBI.N) and Levi Strauss & Co are fretting they might have to raise prices in fragile markets to maintain margins.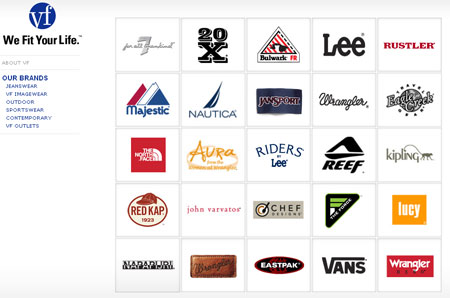 VF Corp, the world's largest apparel company, has many brands whose price tactics will need to be reconsidered
Price tags on everything from jeans to jumpsuits are likely to rise next year, ending about three years of serious discounting.
"It's sort of the worst time possible," said Nate Herman, Vice President of International Trade with the American Apparel and Footwear Association (AAFA), which represents over 700 apparel companies, brands and suppliers.
"As the economy is showing signs of resurgence and people are more willing to come out and buy, we have this huge cost pressure from the back-ends," Herman said, noting the last time the U.S. apparel industry saw such broad-based hikes was in the mid-1990s.
During the recession, many factories in China shut down as demand dropped. Now, decreased production capacity coupled with lower cotton output and higher prices of oil and labor are pressuring production costs.
Bob Shearer, Chief Financial Officer at VF Corp, the world's largest apparel company with brands such as Lee, Wrangler and Jansport, said "It's clearly not just us ... costs overall in apparel are going up."
"Cotton-based products might be pressured more than other types, but it's an overall trend," he told Reuters.
Both the AAFA and Perry Ellis International Inc (PERY.O) CEO George Feldenkreis expect prices to increase by around 5 percent starting next year.
"I think price increases will be felt around the Christmas season and going forward," Feldenkreis told Reuters.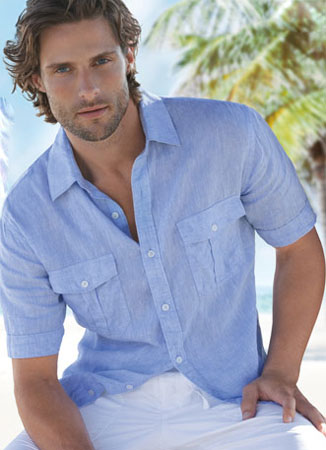 Perry Ellis shirts S/S 2010
PROFIT OR PATRONS?
With consumer confidence still fragile -- latest retail sales numbers were a damp squib -- companies are trying to mitigate price rises by seeking cheaper inputs and suppliers, but this may only be a short-term fix, said Jeremy Rubman, strategist at retail consulting firm Kurt Salmon Associates.
"In the long term, I think we're looking at sustained inflation in the apparel supply chain. Costs are going to go up and the reality is that apparel companies don't have the margins to absorb it," he said.
During the latest recession, apparel retailers took on massive discounting to drive sales, and that trend has continued, albeit more temperately.
With consumers now conditioned to buying at discount, the stage could be set for a war of wills between retailers and their customers.
"Consumers focus more on what they're saving than they do on what they're spending and so they get really fixated on "this is a bargain," said Dr. Kit Yarrow, consumer psychologist and professor at the Golden Gate University.
"It's a question whether or not they're going to just hold out for a little longer until they realize prices will be higher permanently because of higher costs of labor and fabric," Yarrow said.
In the ICE Futures market, the U.S. benchmark December contract for cotton -- traditionally the most important raw material in apparel manufacturing -- rose to a 3-month high on Friday amid supply concerns.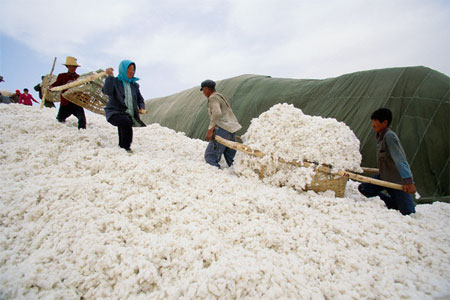 Carrying cotton in China
Company executives see no reason to believe cotton prices will come down any time soon, and rising labor rates in China, dubbed the world's factory, are an additional pressure.
"And layered on top of that, cargo prices are much higher and factory capacity is down, meaning retailers are finding they are having to pay a premium in order to get what they want," Kurt Salmon's Rubman said.
Some specialty retailers such as Abercrombie & Fitch Co (ANF.N) and Aeropostale Inc (ARO.N), which have better margin buffers, are likely to begin passing on the pricing pressure by trimming discounts, followed by eventual price increases.
"The mass stores, like a Wal-Mart (Stores Inc (WMT.N)) for example, don't have that space and margin. So you're going to see small price increases start from them," Rubman added.



By Nivedita Bhattacharjee (Editing by Ian Geoghegan)
© Thomson Reuters 2023 All rights reserved.