Dropping Galliano lets Dior open new chapter
Mar 4 - John Galliano's alleged anti-Semitic insults may have tarnished his employer Dior, but the fashion house's sacking of its star designer now offers it the opportunity to breathe fresh life into the brand.


French fashion designer John Galliano at the Cannes Film Festival in 2005
Behind the scenes, Dior is telling industry watchers it is glad Galliano is gone, as it wanted to move away from his theatrical style and embrace a more subtle and refined elegance to better reflects post-economic crisis society.
"This could be a driver for positive change, which is what Dior itself was looking for," said luxury goods analyst Davide Vimercati at UniCredit.
Dior fired Galliano on Tuesday, hours after an online video clip spread around the world showing him hurling anti-Semitic abuse at people in a Paris bar.
The next day, Galliano apologised and said anti-Semitism and racism "have no part in our society."
The saga began on Thursday evening when Paris police were called to La Perle bar in the Marais district where they found an inebriated Galliano shouting abuse. On Saturday, another woman lodged a complaint for similar behaviour back in October.
The British designer wil stand trial later this year on charges of making racist insults in public.
Although Dior was swift to cast Galliano aside, few expect Dior will be ready to reveal the identity of a successor when his latest collection is presented in his absence in the gardens of the Paris Rodin museum on Friday.
"Although they are likely to announce it relatively quickly, I do not think they can do it that fast," a person close to Dior parent
LVMH
said. "Contract negotiations with all the parties involved take time."
While there are many names in the hat to replace Galliano, most fashion experts point in the direction of
Riccardo Tisci
who has won praise for his work at
Givenchy
, which like Dior is owned by LVMH, the world's biggest luxury group.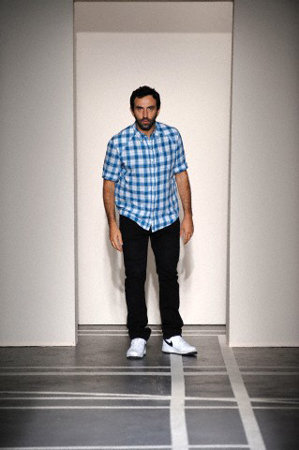 Designer Riccardo Tisci on the runway after his Givenchy spring 2011 show
"Tisci is the best placed because he has the ability to make fully rounded collections, has an eye for volumes and is very creative," the chief executive of one of Europe's top fashion labels told Reuters under conditions of anonymity.
"Based on what I have seen at Givenchy, what he misses is the ability to play with colours, as a lot of it is black, but overall he has done some wonderful things and I think he would be capable of interpreting Dior's universe."
Tisci, who like Galliano attended the prestigious Central St Martins school in London, caught the eye of LVMH's talent-spotters when he launched his own collection.
Tisci has revitalised Givenchy since 2005, with his dark, romantic and slightly melancholic designs, critics say.
However, some industry experts have suggested that Galliano, who was at Givenchy for a year before joining Dior in 1996, could also be replaced by one of his top lieutenants.
The move would let the brand, rather than the designer, take centre stage so Dior could break with the star designer system.
HARD SELL
PPR, which owns fashion house
Alexander McQueen
, followed that route when it appointed his right-hand aide
Sarah Burton
to replace him after he committed suicide last year.
Some people have also suggested
Alber Elbaz
, the bow-tied designer who has resuscitated
Lanvin
over the past decade, as a potential candidate to replace Galliano.
But a person with first hand knowledge of the matter said the move was unlikely as the designer held a minority stake in Lanvin and its controlling shareholder, the Taiwanese media magnate Shaw-Lan Wang, would not let him go.
Another name circulating was that of
Hedi Slimane
, who used to work for Dior's menswear, but several fashion sources said he did not get along very well with the LVMH group and his style was too minimalist and one directional to fill Galliano's shoes.
Luxury analysts say Galliano was not regarded as a driver of Christian Dior's Couture sales, and some had heard complaints he was spending too much on his eponymous own label, whose future now looks uncertain without Dior's financial backing.
Dior's sales rose 15 percent in 2010 to 826 million euros ($1.15 billion), underperforming the sector's 20 percent average growth and close rivals such as Lanvin with growth of about 30 percent.
Since the scandal broke on Friday Dior shares gained four percent on the prospect Galliano would be fired but then slipped once the news was confirmed on Tuesday as his departure created uncertainty as to his replacement.

(Editing by Catherine Bremer and Matthew Jones)
© Thomson Reuters 2023 All rights reserved.