Gildan profit up; no 2009 guidance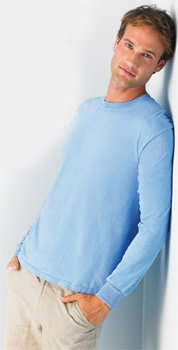 www.Gildan.com
TORONTO (Reuters) - T-shirt maker Gildan Activewear Inc reported a slightly higher third-quarter profit on Wednesday, helped by higher sales, but declined to provide a forecast for fiscal 2009.
Montreal-based Gildan said it is not yet in a position to to provide an outlook for that period, largely due to projected rises in cotton and energy costs.
As well, inflation in other inputs, such as chemicals, dyestuffs and labor rates, may factor in, it said.
"The million-dollar question (is) what the impact of higher cotton and energy costs are and to what degree we recover these cost increases and prices," Laurence Sellyn, Gildan's chief financial officer, said in a call to analysts.
Shares of Gildan closed down C$2.49, or 8.4 percent, at C$27.00 on the Toronto Stock Exchange. Earlier in the day, the stock had drifted nearly 14 percent lower.
Gildan maintained its earnings per share guidance of $1.45 to $1.50 for fiscal 2008.
The company said it earned $54.0 million, or 44 cents a share, in the quarter ended July 6, compared with a profit of $52.4 million, or 43 cents a share, in the comparable period last year.
Results included $2.3 million, or 2 cents a share, in restructuring charges related to ongoing carrying costs for the closure of Canadian and U.S. manufacturing facilities, and a planned consolidation of sewing operations in Haiti.
However, more favorable than projected selling prices, unit volumes and product mix helped offset the charges, the company said.
Excluding the charges, adjusted net earnings were $56.3 million, or 46 cents a share, down slightly from $57.0 million, or 47 cents a share.
Analysts, on average, had expected earnings before items of 45 cents a share, according to Reuters Estimates.
Gildan, which makes T-shirts, socks and underwear, said sales rose 30.6 percent to $380.8 million from $291.6 million, thanks in part to increased sock sales following the acquisition of V.I. Prewett & Son in the first quarter, higher activewear and underwear sales, as well as a rise in activewear prices.
However, the growth in activewear sales volume was "significantly constrained" by lack of inventory, due to lower than anticipated production from the company's Dominican Republic textile manufacturing facility.
(Reporting by Jennifer Kwan and Ka Yan Ng; editing by Rob Wilson)
© Thomson Reuters 2023 All rights reserved.