Hilco, CCMP circling retailer Eddie Bauer
By Phil Wahba and Emily Chasan
NEW YORK, June 9 (Reuters) - Suitors are lining up to buy assets of U.S. clothing retailer Eddie Bauer Holdings Inc (EBHI.O) ahead of an expected bankruptcy filing within the next few weeks, according to people familiar with the discussions.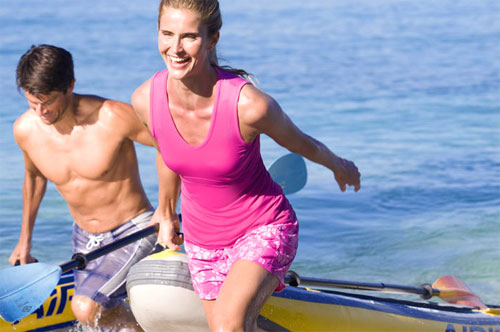 Eddie Bauer - Active Summer Gear
Hilco Consumer Capital is in talks with the outdoor apparel retailer about a possible deal once a bankruptcy filing occurs, and private equity firm CCMP Capital Advisors LLC is weighing an offer for the company, these people said.
The people asked not to be named because the talks are not public.
An Eddie Bauer representative did not immediately return a call seeking comment.
Eddie Bauer has been posting losses on falling sales this year. The company said in January that it had hired investment banking firm Peter J. Solomon Co for restructuring advice and that it has been working to cut costs and preserve cash.
A representative of Peter J. Solomon was not immediately available.
If Eddie Bauer files for bankruptcy it would be the second trip to bankruptcy court for the company, which was started in 1920 in Seattle by its namesake as a sport shop.
The retailer emerged from Chapter 11 bankruptcy in 2005, after former owner Spiegel Catalog sought bankruptcy protection in 2003.
At the time of its emergence, the company had more than 400 stores in the United States and Canada.
It now has about 370 stores in North America and 10,000 employees worldwide, according to its website.
Eddie Bauer shares closed down 50 percent on Tuesday 9 June at about 23 cents.
The company said last month that its first quarter revenue fell 16 percent to $179.8 mln. It has more than $300 million in outstanding debt, according to SEC filings. (Reporting by Phil Wahba, Emily Chasan, and Chelsea Emery; Editing by Ted Kerr)
© Thomson Reuters 2022 All rights reserved.