Japan retailer Aeon's Q3 profit jumps on cost cuts
Jan 7 - Aeon Co Ltd, Japan's second-largest retailer, posted a 52 percent surge in quarterly operating profit after cost-cutting bolstered profitability and sales nudged higher in its stagnant home market.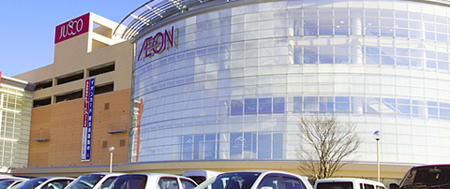 Aeon
The operator of department stores, supermarkets and shopping malls kept its annual outlook unchanged after lifting it in October, and like its rivals is looking to expansion elsewhere in Asia to drive future growth.
Japanese retailers' profits are expected to have got a lift in the latter part of 2010 from pent-up demand after shoppers made deep spending cuts against a weak economic backdrop, as well as from cost reductions, analysts say.
Aeon on Friday reported a September-November operating profit of 31.2 billion yen ($374.5 million). Bigger rival Seven & I Holdings, Japan's top retailer, on Thursday reported a smaller 7.4 percent rise in quarterly profit, to 56.4 billion yen.
While Aeon benefited from better-than-usual sales of seasonal goods, as well as strong sales of energy-efficient consumer electronics ahead of a cut in government subsidies in December, CFO Seiichi Chiba said more than 70 percent of the firm's third-quarter operating profit rise could be attributed to cost reductions.
"Aeon is clearly outstripping Seven & I in terms of both progress in restructuring its problem-laden general merchandise store operations in growth-scarce Japan and expansion in emerging Asian markets," said Naozumi Nishimura, chief analyst at research firm TIW.
EXPANDING IN ASIA
The operator of Jusco general merchandising stores kept its operating profit forecast for the business year to end-February at 150-160 billion yen, 15-23 percent higher than a year earlier. This was in line with an average estimate of 158 billion yen in a poll of 13 analysts by Thomson Reuters I/B/E/S.
The Bank of Japan expects economic growth to pick up modestly this year. Still, retailers face a tough environment at home as deflation persists and little demand growth is expected over the long term, with Japan's population ageing and declining.
Against that backdrop, Aeon, which traces its roots to a kimono fabric and accessories trader from the late 1700s, has been shifting its focus towards emerging economies in China and Southeast Asia. The company still depends on Japan for four-fifths of its operating profit and 95 percent of revenue.
In a business plan unveiled in October, Aeon predicted its operating profit would rise to 250 billion yen in the business year that ends in February 2014, in part by expanding in Asia.
Aeon plans to invest 830 billion yen opening new stores, of which a quarter will be earmarked for operations in countries such as Indonesia and Thailand.
Shares of Aeon rose 35 percent last year, outperforming a 3 percent decline in the benchmark Nikkei average and a 14 percent gain in Seven & I shares.
The stock settled 0.3 percent higher on Friday ahead of the earnings release, against a 0.1 percent rise in the broader market.
Seven and I shares fell 2.5 percent on Friday as investors worried about the pace of restructuring at its weak-performing supermarkets.
Japanese convenience store chain operator FamilyMart Co Ltd on Friday reported a quarterly operating profit of 10.13 billion yen, up 14.2 percent year-on-year.

By James Topham
(Additional reporting by Yumiko Nishitani and Tim Kelly in Tokyo, Arada Kultawanich in Bangkok; Editing by Dhara Ranasinghe and Edmund Klamann)
© Thomson Reuters 2021 All rights reserved.