Japan's Uniqlo thrives in recession, April sales up
TOKYO, May 7 (Reuters) - Japan's Fast Retailing (9983.T) said same-store sales at its casual-clothing stores chain Uniqlo and cut-price chain g.u. rose in April, with analysts expecting the company to comfortably meet its full-year forecasts.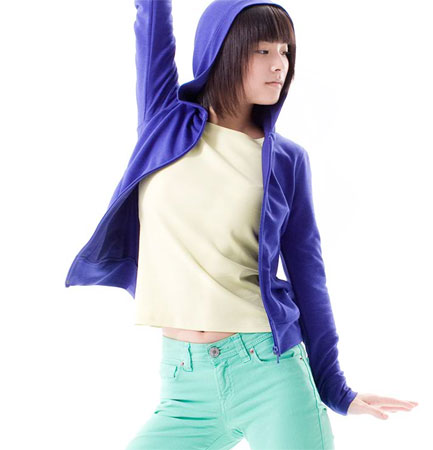 Uniqlo "Colour Parka x Colour Jeans Spring" 2009
Same-store sales at Uniqlo rose 19.2 percent in April as warm weather early in the month helped lift sales of summer items. Like-for-like sales at g.u. rose 70 percent in April, having spiked by that much in March.
Few analysts doubt Fast Retailing will comfortably beat its own forecast for this business year. However, many expect it to face growing challenges next year, as year-ago comparisons are raised by its own robust performance.
The g.u. chain, often seen as Uniqlo's answer to Gap Inc's (GPS.N) Old Navy chain, is also enjoying bumper growth after the company introduced 990 yen ($10) jeans, priced at about a quarter of those at Uniqlo. The g.u. chain has 70 stores while Uniqlo has about 770 in Japan.
SINGLE WINNER
The warm weather boosted the sales of rival budget apparel chains to a lesser extent, Shimamura (8227.T) reporting a 3.3 percent rise in same-store sales in April.
Department stores, hit hard by ongoing consumer trend to rein in spending to weather tough times, were even worse. Japan's top three chains last week reported 9.5 percent to 14 percent drops in April sales.
"During times of economic hardship, a winner tends to take all, as consumers flock to the chain that offers the best value," SMBC Friend Securities retail analyst Shun Tanaka said.
He and other analysts expect the company to beat its same-store sales forecast for the second half of the year, which ends in August. Fast Retailing said it was expecting growth in such sales of just 2.3 percent after a hefty 12.9 rise in the first six months.
The analysts said Fast Retailing's strong sales are likely to drive up profit margin because it is not being pressed into marking down items to clear inventory.
"But the challenge is the next business year, when it will face tough times," Tanaka said, citing higher year-ago comparisons. (Reporting by Taiga Uranaka; Editing by Joseph Radford and Andrew Macdonald) ($1=98.46 Yen)
© Thomson Reuters 2023 All rights reserved.