Just a minute with Tim Gunn from "Project Runway"
By Jill Serjeant
LOS ANGELES (Reuters Life!) - Tim Gunn, fashion guru and urbane mentor to the budding designers on TV's "Project Runway", was forced to swap his impeccable tailored look for something more casual when the fashion reality show moved from New York to laid-back Los Angeles this season.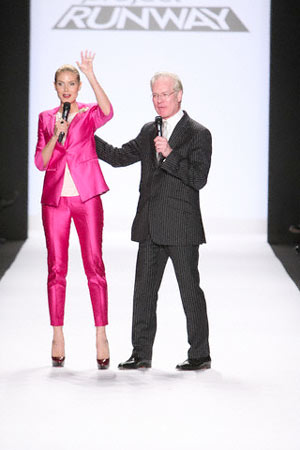 Tim Gunn with Heidi Klum at the Mercedes-Benz Fashion Week in Berlin - Photo: Corbis
So with the show finally underway on U.S. TV again after a legal hiatus of almost a year, look out for Gunn dressed in -- flip-flops?!
Gunn, 56, the polite voice of reason and constructive advice for the competing designers, talked to Reuters about the return of the show -- and how free-wheeling LA changed some of his own ideas.
Q: How did you feel about the show's move from New York to Los Angeles and the city's very different approach to fashion.
A: "Los Angeles is a more casual place. Executives dress more casually. Having lunch at the Four Seasons Hotel, you see studio executives wearing a suit and an open shirt but no tie. I would go to the workroom with the designers every day at the beginning wearing a suit. But finally I thought, I've got to get with it. There is an episode (where) you'll find me in flip flops. You won't find that in New York, but you'll find it in LA. And when the show returns to LA, I'm packing the flip flops!"
Q: Do more experienced designers on the show have an advantage over the younger ones?
A: Not necessarily. In my experience, the more experience one has, the more second guessing or over-thinking one does versus the younger and less experienced contestants who have an ease and agility on how they attack a problem .... It all begins and ends when we go fabric shopping. Derailment, generally speaking, has to do with materials that are not appropriate or that they are not familiar with and then the whole thing goes awry ... If you've never worked with silk charmeuse -- are you crazy? Drop it!."
Q: How much input do you get in decisions the judges make about who wins a "Project Runway" challenge and who goes home?
A; "None. I know nothing about who wins and who loses until I hear it coming out of Heidi's mouth. It can be very frustrating for me because I am an advocate for the designers. What confounds me is some of the things the designers say to the judges. And during their deliberations, how off the mark the judges can occasionally be about a certain designer's work. It's all I can do to bite my tongue and keep from running up there and saying 'wait a minute!'."
Q: How do you keep your temper and good humor? There is only one known occasion when you lost it on the show.
A: "Yes, that was with Kenley (in season 5). My patience was simply exhausted and I was just tired of her rudeness ... In the course of 29 years of teaching, you develop a lot of resources to deal with students you'd like to smack. There is one moment in season 6, backstage at New York Fashion Week at Bryant Park, when I said 'I am about to lose it'. I was beyond despair. We had nano seconds before the runway show was starting, and there were still models who didn't have any clothes on."
Q: Are we going to see more of your other TV venture "Tim Gunn's Guide to Style"?
A: "We're talking about a way of repackaging and re-pitching it to Lifetime Television. It is a sincere honor for me to work with these fashion-challenged women who declare they need help. They do the heavy lifting and they are the ones who have the epiphany about who they can be, as opposed to a make-over show when an individual becomes my dress-up doll.
"What do they learn from that? Don't run to the trend. My key to getting fashion right has to do with silhouette, proportion and fit. It's not about individual items or colors and textures. It's really about that harmony of silhouette, proportion and fit on your particular body, and I believe anybody can look good."
© Thomson Reuters 2023 All rights reserved.