Mideast luxury sales seen stagnant in 2010
DUBAI (Reuters) - Dubai conglomerate Al Fahim Holdings expects the region's luxury sector to turn in a similar performance this year to last, when sales were down 40 percent, with Gulf Arab buyers propping up the market.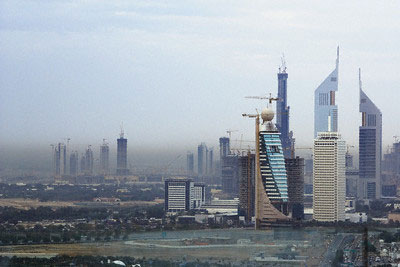 Dubai skyscrapers
Chief Executive Mohammed al-Fahim told the Reuters Global Luxury Summit on Tuesday 1 June that the sales trend improved in the first quarter this year, with a fall of just 25 percent.
But that might not be matched for the rest of the year.
"Overall the luxury high-end brands are suffering, (but) a little less than last year," he said. "The trend in 2010 for those brands is similar to 2009, with the second quarter always tougher than the first."
The company, which has activities in retail, real estate, distribution and publishing, owns cosmetics and fragrances outlets Paris Gallery, featuring 450 brands including Chanel, Dior (DIOR.PA)(LVMH.PA), Yves Saint Laurent and Lancome (OREP.PA), with 80 stores across the Middle East.
It also owns the franchise for brands including Burberry (BRBY.L), Cartier (CFR.VX), Ferrari, Moschino (AEF.MI), Roberto Cavalli and Salvatore Ferragamo in some Gulf Arab countries through 20 stores.
"Brands like Burberry keep growing," said Fahim. "There are brands that keep their momentum and others that are new to the market like Ferrari accessories and products ... We still have to see if they work well."
Dubai, the luxury capital of the Middle East as well as its tourism and trade hub, was hit hard by the global financial crisis and a real estate crash.
Expensive tastes for designer clothes, luxury watches, fancy cars and gold-plated mobile telephones accompanied the boom, but the global economic downturn led to a drop in the number of tourists visiting the cosmopolitan emirate, damping demand for luxury goods.
Dubai has more than 40 malls, including one with an indoor ski slope and another described as the world's largest.
"People are more careful about what they buy," said Fahim. "Those people who have high disposable income are not cutting on buying high-end brands, but those in the middle class (segment) ... are more careful."
The company, which expanded operations in 2009 and added 14 Paris Gallery stores to its portfolio, is hoping to add up to three branded stores this year, said Fahim.
The cosmetics and fragrances sector, helped by demand from Gulf Arab buyers, is showing resilience, with sales across Paris Gallery stores in the United Arab Emirates growing by five percent, Fahim said.
"Our customer base is GCC nationals, so in locations where they are concentrated we are growing," he said.
Tourists make up about 20 percent of the group's buyers, while the remaining 80 percent comprises Gulf Arabs and residents, said Fahim.
Overall, luxury sales are seen rebounding in 2011 or 2012, with "significant improvement," said Fahim.
(Editing by Firouz Sedarat, editing by Will Waterman)
© Thomson Reuters 2023 All rights reserved.