Oscar winner Portman condemns Dior designer Galliano
Mar 1 - Oscar-winning actress Natalie Portman, who promotes perfume for the fashion label Dior, has condemned its British designer John Galliano over a widely distributed video that purportedly shows him making an anti-Semitic tirade.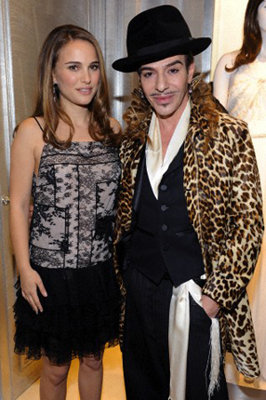 Natalie Portman and John Galliano at the Dior Flagship reopening party last December
Portman, who won an Academy Award on Sunday for Best Actress and is Jewish, said she would not be associated with Galliano, in a statement carried by the New York Times.
"I am deeply shocked and disgusted by the video of John Galliano's comments that surfaced today," Portman said. The paper said the statement had been released late on Monday in Los Angeles.
"In light of this video, and as an individual who is proud to be Jewish, I will not be associated with Mr Galliano in any way. I hope at the very least, these terrible comments remind us to reflect and act upon combating these still-existing prejudices that are the opposite of all that is beautiful."
It was not clear how Portman's contract with Dior might be affected.
Galliano, one of the world's top designers and known for his dramatic shows and flamboyant style, was suspended by Dior on Friday, hours after a couple complained that he had shouted racist and anti-Semitic insults at them while out drinking in Paris's hip Marais district.
His lawyer Stephane Zerbib said Galliano, who lives in Paris, denied making racist or anti-Semitic comments.
But speculation about his future intensified after a woman lodged a new complaint on Saturday about a similar incident in October and a video surfaced on newspaper sites around the world, including that of the British newspaper the Sun.
It was not clear whether this incident was the one depicted in the video.
A woman accused the 50-year-old designer of insulting her at the same bar where police discovered him on Thursday evening hurling a torrent of abuse at a couple, who complained that the tirade included racist and anti-Semitic remarks.
"He has never said such things, whether on the 24th (of February) or in October," Zerbib told Reuters.
Dior has refused to comment on the new complaint.
ZERO TOLERANCE
Galliano ignored questions on Monday as he strode through a crowd of reporters outside a police station in central Paris, his face largely hidden by a wide-brimmed black hat as he emerged from a car. He was inside for more than five hours.
Many fashion insiders fear Dior may have to part ways for good with Galliano, its creative director since 1996.
"I think the situation is not tenable for Dior," said Muriel Piaser, head of the bi-annual Parisian fashion trade show.
"Dior sells everywhere around the world. Fashion sells dreams but it also involves respecting certain ethical codes."
The French anti-racism group SOS Racisme said on Monday it would also pursue charges against the designer, as French television broadcast the video, already widely distributed across the internet.
The video shows a person who looks like Galliano spewing insults on a bar terrace. The person slurs and uses explicit language as he tells a woman at the next table that she is ugly, that he loves Hitler and that "people like you would be dead today -- your mothers, your forefathers would be gassed."
Zerbib said he could not say whether the person in the clip was Galliano.
Dior, which on Friday stressed it had a "zero tolerance" policy towards any racist or anti-Semitic behaviour, said Galliano was suspended pending the outcome of an investigation.
It was not clear whether Dior's show would proceed as scheduled on Friday. However, the press office of John Galliano, the designer's own label, said his Sunday show was still on.
Dior is one of the biggest fashion brands alongside Louis Vuitton at LVMH, the world's No. 1 luxury group controlled and headed by French billionaire Bernard Arnault.
Galliano, named British designer of the year four times, previously worked at Givenchy. He was succeeded there by the late Alexander McQueen who later created his own label, now part of the French group PPR.
(Writing by Paul Casciato, Editing by Kevin Liffey)
© Thomson Reuters 2023 All rights reserved.