Retail sales rise unexpectedly in January
LONDON (Reuters) - Retail sales unexpectedly rose in January as shoppers took advantage of aggressive price cuts to stock up on new clothes, books and CDs in the post-Christmas sales, official data showed on Friday.
The Office for National Statistics said sales rose 0.7 percent last month and by 3.6 percent on the year. Analysts had forecast a monthly fall of 0.1 percent.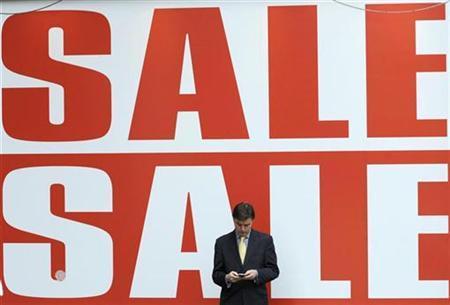 On a three-monthly basis, sales were up 1.5 percent, the highest rate since May last year.
The figures suggest that consumer demand is holding up but are unlikely to stand in the way of any further monetary stimulus from the Bank of England, which expects a sharp deterioration in the economy over 2009.
The ONS said the main drivers of sales in January were the "textiles, clothing and footwear" and "other stores" categories after widespread discounting.
But prices were on average only 1.0 percent lower than a year ago. In December they were 2.8 percent lower, as retailers feared a bad Christmas.
Sales at textile, clothing and footwear stores jumped 6.1 percent on the month, the biggest rise since May 2008. Sales at other stores, such as books and CD sellers, shot up by 6 percent, the biggest monthly increase since January 1988.
The ONS said it believed it had now resolved the seasonal adjustment problems that had dogged the December data and did not expect any significant revisions.
© Thomson Reuters 2022 All rights reserved.