Retail sales slump in June
By Sumeet Desai and Matt Fallon
LONDON (Reuters) - Retail sales slumped in June at the sharpest rate on record, official figures showed on Thursday, more than wiping out May's record rise and dragging three-month growth down to its weakest since late last year.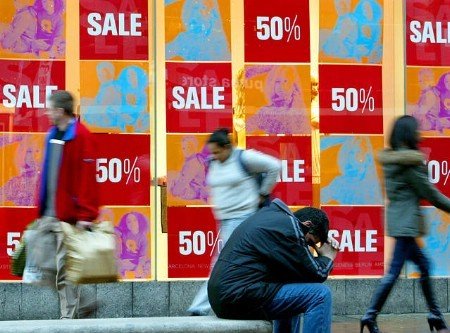 Sales fell in all but one sector, with clothes, shoes and household goods sales severely hit. The sharper-than-expected decline drove the pound lower as investors bet the Bank of England may have to cut interest rates to bolster the economy.
However, policymakers concerned about simmering inflationary pressures may be worried to see shops prices being higher than last year -- the first increase in a year.
The Office for National Statistics said retail sales volumes fell 3.9 percent in June -- the sharpest fall since records began in 1986 -- after an upwardly revised 3.6 percent jump in May. Annual growth slumped to 2.2 percent from 7.9 percent.
Analysts had been expecting some payback for such a surprisingly strong performance in May, but had only forecast a monthly fall of 2.5 percent for an annual gain of 4.4 percent.
June's slide indicates consumer spending might be about to join a broad weakening in economic growth, with sales in the three months to June rising just 0.6 percent on the previous three months -- the weakest since December 2007.
"June's data finally showed the official data moving into line with the gloomy anecdotal evidence," said Vicky Redwood, an economist at researchers Capital Economics.
"What's more, we think that spending growth will weaken considerably further, as house prices keep falling and inflation and unemployment rise further."
RATE CONUNDRUM
While the Bank of England has given little sign that lower borrowing costs are on the way, because inflation is running at its strongest rate in more than a decade, most economists think rates will need to fall eventually.
"We continue to favour aggressive rate cuts in 2009 with the policy rate touching the 3.5 percent lows seen in 2003," said James Knightley, an economist at ING.
Both food and non-food sectors suffered their sharpest monthly falls on record after large jumps in May thanks to a heat wave boosting sales of clothes and summer food and drinks.
Household goods sales posted their biggest monthly fall since 1991 and textile, clothing and footwear sales fell at their sharpest monthly rate since 2002 in June, the ONS said.
News among retailers this year has been broadly gloomy, raising expectations of a slump in consumer spending.
Sports clothing and equipment store JJB Sports said on Thursday it was facing a difficult environment after announcing a fall in sales.
However, Europe's biggest do-it-yourself home improvements retailer Kingfisher posted a small rise in same-store sales on Thursday, with improving profit margins at its B&Q chain.
The ONS said the only sector to post a rise on the month was non-specialised stores.
Statisticians said department stores may have had some early summer sales but otherwise prices on average in the overall retail sector were up 0.5 percent on the year -- the biggest rise since May 2007.
"Official data on retail spending now better reflects the reality of a sharply moderating economy in our view," said Matthew Sharratt, an economist at Bank of America.
"Still, the rate outlook remains clouded by inflation concerns. Retailers are attempting to pass on rising costs despite a clear weakening in domestic demand. A stalling economy and rising inflation is a potentially toxic combination."
© Thomson Reuters 2023 All rights reserved.