Retail sales surge raises rate hike talk
LONDON (Reuters) - Retail sales volumes shot up in February at their fastest pace in a year and twice the rate predicted as clothing and footwear sales surged, raising expectations that interest rates may soon go up.
Sales volumes rose 1.4 percent in February, the biggest gain since January 2005 and following a 1.5 percent drop in the previous month, the Office for National Statistics said on Tuesday.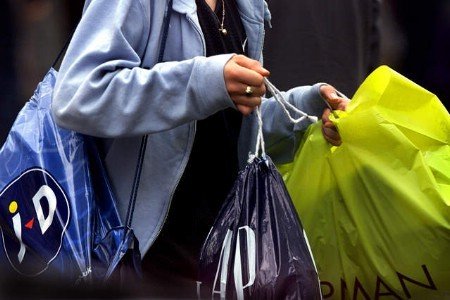 This left sales up 4.9 percent on the year, the fastest pace since November 2004.
Bond prices immediately dropped and the pound rose as dealers bet that the Bank of England would raise interest rates again before long.
"The February UK retail sales report has boosted the probability that the Bank of England will raise interest rates once more," said James Knightley, economist at ING.
The central bank has already raised interest rates three times since August to calm price pressures.
While most analysts had predicted another rise, news on Wednesday that one member of the Monetary Policy Committee had voted for a rate cut at this month's meeting had some questioning that view.
The rebound in sales came as retailers cut prices for a second month. Prices were on average 0.3 percent lower than a year ago. The increase was driven by textile, clothing and footwear stores, where sales rose 4.7 percent, their fastest rate in more than four years.
Despite swings in the monthly figures -- February's rise came after a revised 1.5 percent fall in January and a 1.1 percent gain in December -- the ONS said underlying growth in sales volumes remained close to the long-run average.
© Thomson Reuters 2022 All rights reserved.