Retailers facing constricted credit: survey
By Alexandria Sage
SAN FRANCISCO (Reuters) - Nearly half of U.S. retailers have seen their lenders tighten credit this year, and a majority don't expect a turnaround in the economy to occur before the second quarter of next year, according to a new study.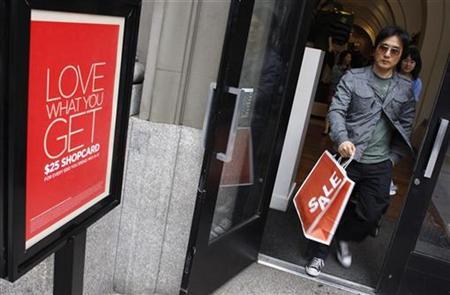 The BDO Seidman study, which surveyed 100 chief financial officers at leading U.S. retailers during August and September, also found that 24 percent of retailers had made, or planned to make, significant layoffs in 2008.
"This is a demonstration of how the credit crunch is affecting Main Street," said Doug Hart, a partner in BDO Seidman's retail and consumer products practice. "It's a direct correlation -- if banks get tight, companies will get conservative and they'll lay people off."
Some 63 percent of CFOs surveyed by the consulting firm don't believe a "meaningful turnaround" in the economy would come before the second half of next year or later -- 11 percent said it will occur in 2010 or later -- and 41 percent said they had experienced constricted credit by their lenders.
"If you surveyed those same CFOs now, over 50 percent would be experiencing some tightening," Hart told Reuters.
U.S. banks and other lenders, reeling from a global credit crunch with roots in the housing meltdown, have curtailed lending and retailers this year have faced a double whammy -- tighter credit and dismal consumer spending levels.
One example is women's apparel retailer Talbots Inc , majority-owned by Japan's Aeon Co Ltd . Talbots sales were already in a slump before two major banks earlier this year said they were cutting off their letters of credit. The company has been cutting staff and streamlining operations.
Moreover, retailers including Linens 'n Things, Steve & Barry's and Mervyn's have all filed for bankruptcy protection this year.
To manage their businesses in the tough environment, retailers have cut back on their inventories and shuttered stores. Some 37 percent of surveyed CFOs said they would reduce planned inventory purchases in 2008, and 36 percent said they had, or would, close stores, the study found.
But should there be flexibility in credit lines, retailers need to take advantage of that in advance of the crucial holiday season, where the bulk of profits are made, said Hart.
"You don't want to completely miss out on the holidays," he said. "If you have capacity in your credit line, you'll use that so your holiday sales are not dismal."
Hart noted that less inventory that is manufactured abroad and imported into the United States does not bode well for foreign economic growth. The "ripple effect" of that means that slowed spending by consumers abroad, he said.
"They're a growing market for U.S. goods and that's been a real silver lining in our economy. This shows that is at risk," Hart said.
(Reporting by Alexandria Sage, editing by Gerald E. McCormick)
© Thomson Reuters 2022 All rights reserved.