Reviving Russian luxury market outpaced by rivals
April 5 - Luxury boutiques are popping up across the country again, the capital's streets are gridlocked with Bentleys and top designers are steadily trickling back in.

Russia's luxury market may be worth only half of what it was pre-financial crisis, but its thirst for excess is making somewhat of a comeback, though uncertainty over its ability to grow lingers.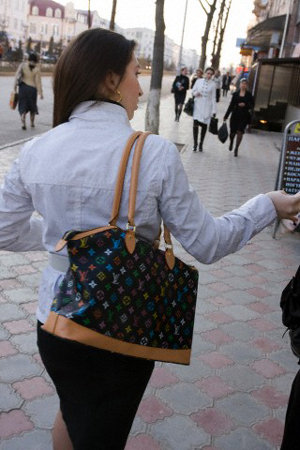 A young woman carries a Louis Vuitton shoulder bag down a street in Grozny, Chechen Republic, Russia
"Slowly, slowly, people are starting to live again," said Alla Verber, Russian clothing mogul and head of fashion at plush designer store TSUM, Moscow's answer to
Saks Fifth Avenue
.
Verber said the severe blow dealt to the luxury market during the crisis two years ago -- which slashed the near $8 billion market in half and forced stores such as
Alexander McQueen
and
Vivienne Westwood
to board up their windows for good -- eased towards the end of last year.
Like almost every aspect of Russia's economy, luxury's recovery has been pegged to the price of oil -- which influences a trickle-down of wealth in the world's top energy producer.
With oil prices rebounding to almost $115 a barrel last month -- more than triple the devastating lows seen during the crisis -- the monogram brown and gold bags of
Louis Vuitton
and the red-soled heels of
Manolo Blahnik
are returning to Moscow's streets.
Eighty percent of Russia's luxury goods are sold in Moscow.
"We are still seeing some uncertainty, but obviously commodities markets are returning, the price of oil is increasing, and it gives confidence," said Matthew Stephenson, managing director of auction house Christie's in Russia.
The prestigious London-based auctioneers, which opened their Moscow branch in April last year, say Russian-speaking clients today are buying 35 percent more than they did in 2009. Christie's turnover in 2010 was up to $3.3 billion, Stephenson said, 8 percent of which was generated by Russians.
ASIA OVERTAKES RUSSIA
Around the world, the luxury goods market rebounded in 2010 much faster than analysts expected, pulled by growing demand from China, recovery in no. 1 luxury market the United States and strong tourist shopping in Europe. Many analysts expect this year's global growth to be around 8-10 percent.
But analysts say Russia has been knocked off its pre-crisis perch as fourth-largest luxury market, outpaced by Asia's lust for luxury, namely China, Japan and South Korea, and the limits of having its wealth in a limited number of hands.
"Russia has perhaps fallen off the radar of some luxury companies," Thomas Chauvet, luxury goods analyst at Citi in London, told Reuters.
Analysts say the Russian luxury market makes up to 3 percent of global sales, and Chauvet believes Russia can gain 1-2 percentage points over the next five years, but not more.
"Russia remains an oligarchical society with huge inequalities in wealth distribution... I don't think the penetration of luxury goods will ever be as high as in emerging Asia, the Middle East or even South America," Chauvet said.
But a partial comeback is in full swing.
"People are not spending money left and right, but the crisis already seems far away," Verber told Reuters, adding that Italian brands
Gucci
and Dolce&Gabbana were selling particularly well at TSUM, which is housed in a century-old stone building near the Kremlin.
Verber said revenue last year was up 15-20 percent compared to the crisis year of 2009 at TSUM, which does not disclose earnings.
British designer
Stella McCartney
re-entered the Russian market in December by way of a concession at TSUM, returning after her stand-alone store made a swift 2009 exit.
Italian suit wizard Umberto Angeloni, who transformed Italian label
Brioni
into one of the world's most prestigious men's luxury brands, also joined TSUM with new label Uman.
"We are extremely optimistic," said Viktoria Slezko, general director of Russian boutique chain Fashion Code, whose average dress fetches around $1,000.
She said they will quadruple the number of shops it has this year, adding that St Petersburg and an undecided city in "middle Russia" will benefit from the shops, on top of its sole lavish Moscow boutique.

By Amie Ferris-Rotman
(Additional reporting by Nastassia Astrasheuskaya in Moscow and Astrid Wendlandt in Paris)

© Thomson Reuters 2023 All rights reserved.