Serb shoppers count the pennies
BELGRADE (AFP) - In order to help those living below the poverty line -- estimated at about 500,000 out of a population of 7.5 million -- Serbian authorities recently took up a trade union proposal to open shops with cheap basic goods.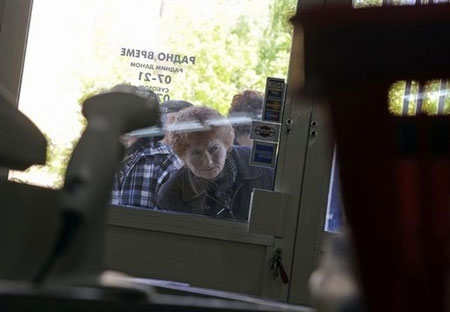 A woman looks through the door to a government-backed discount supermarket in Belgrade - Photo: AFP
Since March, three such 'SOS markets' have opened in the capital, overseen by the Jabuka commercial chain, with plans for more around the country.
In order to shop there, customers have to apply for a membership card which proves they are unemployed or earn less than 20,000 dinars (210 euros, 280 dollars) per month.
As she searches the shelves in a recently opened store for Serbians on very low incomes, 31-year old Jovana Nikolic carefully counts how much she spends on filling her shopping basket.
"I never thought I would have to count every penny," said the mother of two as she picked up half-priced apples from a fruit counter.
Nikolic lost her job in a dry-cleaners in November and any hope of finding new work has disappeared as the global economic crisis devastates the former communist country.
Retired school teacher Veselinka Stosic said she was reluctant at first to shop in the SOS store but with a pension of less than 180 euros, she could not afford even basic goods elsewhere.
"I really need just basics for me to survive," said Stosic, a widower.
Stosic said she has not forgotten the bleak days of 1990s, when economic sanctions were imposed on the then-rump Yugoslavia of Slobodan Milosevic.
"With my full pension, I could buy only four eggs and a bottle of milk but you don't know what can you make of goods hidden on your shelves or packed deep in your freezers," she said with a smile.
The two women are among 300 people who have already registered to shop in this market in the Belgrade suburb of Mirjevo.
In Karaburma, a suburb of mostly workers, unemployed or pensioners, more have poured into the SOS store there.
Mile Nikolic, 53-year old locksmith, said he was lucky to have a job in a local factory but he had a salary of only 200 euros, his wife was unemployed due to her bad health and his two sons still go to school.
"I do work extra hours in a private shop but even with that money, we can not afford everything we need," he said.
But he did not want to complain.
"The crisis has hit everyone in the world. We have to do everything to overcome it, even if that means working 16 hours per day," Nikolic said.
At the same time, the authorities will have to do more to help those in need, Nikolic warned.
"We, citizens, can calculate our incomes, find another job, work long hours. These shops help but more is needed for those who have limited options," he said.
Official data show that the average salary in Serbia is around 400 euros but that it is hardly enough to make ends meet.
Srdjan Lucic and his wife Radmila together make around 1,000 euros per month and so cannot apply to shop in the SOS markets.
Once all expenses are paid, "we are always short at the end of the month," Lucic said.
"We are not poor, far from it, but we still cannot relax. I can only imagine how those less fortunate survive," his wife added.
For the more fortunate, put at 10 percent of Serbians, the choices appear in comparison to be unlimited.
Just a week after the first SOS market opened in Belgrade, several miles (kilometres) away, a luxurious shopping mall "Usce" welcomed customers looking for famous international fashion brands and top class technical equipment.
Unemployed dry-cleaner Nikolic said she sometimes goes there just to enjoy strolling around boutiques and dream about buying fancy goods.
"I don't mind seeing these malls growing like mushrooms after the rain. To each his own," Nikolic said.
Copyright © 2023 AFP. All rights reserved. All information displayed in this section (dispatches, photographs, logos) are protected by intellectual property rights owned by Agence France-Presse. As a consequence you may not copy, reproduce, modify, transmit, publish, display or in any way commercially exploit any of the contents of this section without the prior written consent of Agence France-Presses.