US Trade Representative Kirk says he wants to hear US trade partner views
GENEVA (Reuters) - The United States is keen to exchange views with U.S. trading partners, and will try to resolve European Union disputes through negotiation where possible, the top U.S. foreign trade official said on Monday 11 May.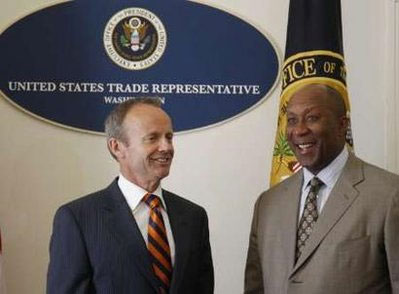 U.S. Trade Representative Ron Kirk (R) meets with Canada's Trade Minister Stockwell Day at the U.S. Trade Representative's office in Washington, April 27, 2009. REUTERS/Jason Reed
"The world has given us an opportunity to reset our relationships with a lot of our partners so this is as much an opportunity for me to hear their perspectives as much as to share my own," said U.S. Trade Representative Ron Kirk.
Kirk, who took up his job in March, is conducting a review of U.S. trade policy. Asked about relations with the EU that have been strained through recent trade disputes, he signaled a more conciliatory approach ahead.
"Assuming that we get the beef issue finally put to bed, which we are 99 percent there ... then we will look and see if there are other issues that we might be able to address," he told reporters as he arrived for meetings at the World Trade Organisation's headquarters in Geneva.
The United States and EU reached a provisional deal last Wednesday 6 May to end a two-decade-long row over beef trade, heading off new retaliatory duties on European produce.
WTO Director-General Pascal Lamy said last month in Washington that a renewed push to finish the 7-1/2-year-old Doha trade talks could not begin until the United States was ready to take part.
Kirk told Reuters last Tuesday 5 May that a new approach was needed in the long-running Doha talks.
During last year's election campaign, U.S. president Barack Obama promised to take a tough line on trade to ensure that trade agreements reflected labor and environment concerns.
Since taking office he has watered down but not rejected controversial "Buy American" provisions in the U.S. stimulus package.
Kirk is on a three-day trip to Geneva to meet U.S. trade officials and ambassadors from other countries who lead detailed negotiations on trade.
Monday 11 May's meetings include a session with ambassadors from Latin American and Caribbean countries and meetings with the chairmen of the various negotiating groups in the Doha talks.
On Tuesday 12 May he will meet WTO Director-General Pascal Lamy and ambassadors from African and least developed countries and have dinner with EU trade chief Catherine Ashton.
(Reporting by Jonathan Lynn; Editing by Louise Ireland)
© Thomson Reuters 2023 All rights reserved.