Watchmakers braced for tough times
By Katie Reid
ZURICH (Reuters) - The emerging markets miracle will not be enough to prevent 2008 from being the year the Swiss watchmaking industry will suffer its first significant slowdown in half a decade.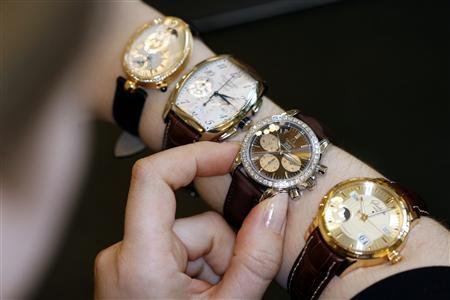 And 2009 is not looking any better.
Many buyers of a Rolex, TAG Heuer or Patek watch were high-flying City, Tokyo and Manhattan bankers who are in the process of packing their bags after their employers succumbed to the world's worst financial crisis since the Great Depression.
"The big investment bank bonuses of the last two or three years have gone," Investec Securities luxury goods analyst Thane Duff said.
The Swiss watchmaking industry, which accounts for the bulk of global luxury watch sales, is expected to see its growth slow to around 10 percent this year from 16 percent in 2007 and slip into low to mid-single-digit territory in 2009.
"What is new is that the European market is weakening," said ZKB analyst Patrik Schwendimann. "The economy is getting weaker day by day."
And this month's financial market turmoil has cast further doubt over the spending power of consumers ahead of the crucial Christmas trading season.
"It is obvious that due to the environment we have after the last two weeks we won't see the growth rates we have seen over the last four years," said Vontobel analyst Rene Weber.
"The Christmas season will be very difficult," said Weber, who is forecasting 5 percent growth in Swiss francs in 2009.
Earlier this month, Richemont, the world's second largest luxury goods group behind LVMH and seller of Cartier watches, said trading had worsened in the United States between April and August and warned of uncertain times ahead.
Swiss watch export data have shown that demand for luxury watches has softened so far in 2008 versus 2007, with exports rising 13 percent in the first eight months of the year compared with 17 percent in the same period in 2007.
But resilient demand in emerging markets means that Switzerland's watch industry is better placed to weather this storm than it was in the aftermath of the September 11 2001 attacks or 2003 Sars scare that hit travel and sales.
"Russia and China were far less important five or six years ago than they are now. We are seeing greater geographic diversification and this should hopefully underpin demand," said Duff.
The dollar's recent recovery from an all time low against the Swiss franc is also likely to give a welcome boost to the industry. The U.S. currency has gained more than 10 percent against the franc since March when it fell below parity.
EXPENSIVE BRANDS
"Richemont and Swatch are both well positioned. They own very strong brands and are financially sound. A lot of an anticipated slowdown is already priced into their shares and valuations are close to historic lows," said Andrea Gerst, fund manager of Julius Baer's luxury brands fund.
Shares in Swatch Group, the world's largest watchmaker, have lost nearly 40 percent of their value so far this year, while Richemont shares are down nearly 30 percent, as investors anticipate the weaker economy will weigh.
But analysts say some stocks could start crawling back as early as the first half of 2009 if there is enough evidence to support the view that the industry is definitely in a trough, as their valuations are primarily based on expectations.
Some analysts said they were relatively optimistic regarding the very high-end of the market as well-heeled customers were likely to keep buying pricey watch pieces.
August's export data showed that demand for watches costing more than 3,000 Swiss francs rose 6.4 percent in terms of volume and 14.7 percent by value, while demand for those costing less than this fell 3.4 percent in terms of volume.
Swatch Group's Breguet and Blancpain brands, which start at around 15,000 francs, should fare better than brands such as LVMH's TAG Heuer and PPR's Gucci which are not in the most expensive category, making them more exposed to the slowdown.
Investec's Duff said the price segment for watches between 200 Swiss francs and 3,000 Swiss francs was most vulnerable as consumers generally tightened their belts in times of turmoil.
Richemont's strong position in the top-end range, with brands such as Piaget, Constantin Vacheron, Lange & Soehne and Jaeger-LeCoultre, means that the Geneva-based company is well placed to cope with the slowdown, analysts said.
"The most expensive watches are growing fantastically," said ZKB's Schwendimann.
However, demand for children's watches is expected to remain solid and Swatch Group's Flik Flak range for children and their namesake plastic watch Swatch brand, should benefit from this trend said Duff.
Swatch has also improved its high-end product mix, which should allow them to offset the anticipated slowdown in the mid-range segment, analysts also said.
"Geographically it is also well positioned in the Asian markets, eastern Europe and the Middle East where growth in the high-end segment is likely to be strong," said Clariden Leu analyst Beatrice Kunz.
(Editing by Astrid Wendlandt and Andy Bruce)
© Thomson Reuters 2023 All rights reserved.