Westfield to cut payout ratio, sees US stabilising
MELBOURNE, Aug 26 (Reuters) - Westfield Group (WDC.AX), the world's biggest shopping mall landlord by market value, will slash its payout to shareholders from next year to help conserve cash for acquisitions and development projects.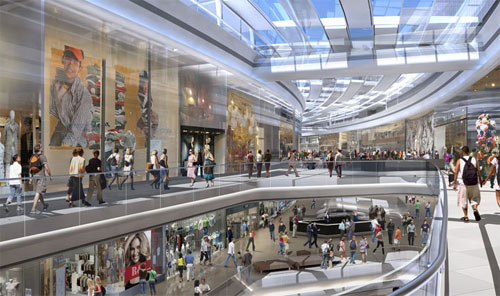 An artist's impression of the upcoming Stratford City Mall in the UK from the Westfield Group - Photo: uk.westfield.com
It said it would not start any big new development projects until after next June, and as a result had no need to raise equity for now. New projects have been on hold since the beginning of this year.
Analysts said the spending cut on big projects to around A$1 billion a year from around A$3 billion a year meant development earnings would not be a growth engine for some time, and a lower dividend payout would make Westfield less appealing. "It means that now the stock looks to be trading on a very skinny yield, something like 5 percent. To yield investors it doesn't look as attractive," said Richard Morris, investment manager at Constellation Capital Management, which does not hold Westfield shares.
Still, Westfield shares rose as much as 4 percent to their highest in more than seven months as investors expressed relief that Westfield maintained its forecasts, after Australia's sixth-largest property trust Dexus (DXS.AX) cut its forecasts last week.
Australia's biggest property trust was cautiously optimistic about the outlook for its 119 malls, with Australian retailers performing better than expected, while the United States and Britain were stabilising.
"We're not projecting those better performances to stay during the year, because the world is volatile out there," Group managing director Peter Lowy told Reuters in an interview, adding that fourth-quarter sales would be key to building confidence.
Westfield stood by its forecasts for full-year earnings and distribution this year to fall to 94 to 97 cents a share, and still expects net operating income in Australia to rise 3-4 percent and sees it falling 2-3 percent in the United States.
"Operationally it's not as bad maybe as people were fearing, in the U.S. in particular. Australian earnings are still holding up well," said Morris.
EARNINGS RISE
Westfield reported a 12 percent rise in first-half operating earnings to $1.04 billion ($868 million), in line with market forecasts, as rental income from its Australian malls continued to grow while its U.S. centres suffered.
U.S. malls make up around 43 percent of the group's rental income, slightly less than its Australian malls.
By comparison, its biggest U.S. rival, Simon Property Group (SPG.N), reported a 6.8 percent fall in first-half funds from operations.
Westfield plans to cut its distribution payout to 70-75 percent of operational earnings, down from 100 percent, with effect from the first half of 2010, matching cuts by Australian rivals. The lower payout would save about A$500 million a year.
That meant Westfield would not need to raise more equity, Lowy said, following its A$2.9 billion share sale in February. Occupancy at Westfield's U.S. malls inched up to 90.4 percent at the end of June from 90.1 percent three months earlier, as new leases overtook store closures in the second quarter. Its Australian malls remained nearly fully occupied.
Net operating income from its U.S. malls fell 0.6 percent, while rental income from its Australian and New Zealand malls rose 6.2 percent.
Lowy said despite rival Simon Property talking about potential acquisitions, Westfield did not see any opportunities, especially in the United States, in the near term, seeing any mall sales from General Growth's GGP.N bankruptcy some way off.
"The catalyst for (General Growth sales) is there needs to be some major change in the operating environment or the creditors' committee can put forward a plan that is superior to the one put forward by the company at the moment," he told Reuters.
Westfield said it would pay a distribution of 47 cents a share, as announced earlier in August.
(By Sonali Paul. Editing by James Thornhill & Dhara Ranasinghe)
© Thomson Reuters 2023 All rights reserved.