Abercrombie to cut prices; could shed Ruehl chain
SAN FRANCISCO, May 15 - Back when the U.S. economy was humming, hip American teens would happily fork over chunks of their allowance money to sport their Abercrombie & Fitch Co (ANF.N) and Hollister logos.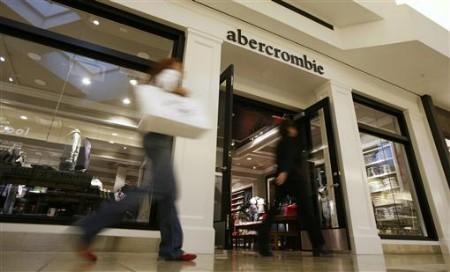 How times change. In recent quarters, stubbornly high price tags have scared off recession-weary customers. Sales have spiraled downward as executives have staunchly defended pricing to safeguard Abercrombie's cachet.
Now, after revealing a wider-than-expected loss Friday, the retailer is finally caving in to pressure from a Wall Street investment community impatient for sales to rebound.
Chief Executive Mike Jeffries acknowledged a consumer price-consciousness "unlike anything I have ever seen."
Abercrombie also signaled it may be open to shedding its underperforming Ruehl chain of stores catering to twentysomethings.
Such a rethink on price and the viability of its Ruehl arm
-- the company also operates the surf-inspired Hollister chain -- the company also operates the surf-inspired Hollister chain and the abercrombie chain for children -- is welcome and long overdue, analysts say.
Wall Street would have to wait until 2009's latter half for confirmation that the changes would drive sales, but some analysts said turnover had hit a trough in the first quarter.
"The company is taking steps in the right direction to fix the ship," said Jefferies analyst Randal Konik, who rates the stock a "buy." "That will likely have a beneficial impact for back-to-school" sales.
But shares were down more than 4 percent on Friday as first-quarter cost-cutting efforts, including a sharp inventory reduction, could not offset sales that tumbled by nearly a quarter. A net loss of 31 cents per share was below the Wall Street consensus view of 12 cents.
Despite the lower-price pledge, Abercrombie will not embrace hefty discounts showcased by many rivals. Whereas shoppers at Aeropostale Inc (ARO.N) and American Eagle Outfitters Inc (AEO.N) stores are greeted by signs for 2-for-1 offers or other specials, Abercrombie plans to simply lower the initial ticket price on some of its offerings with little fanfare.
"It's important they are going to accomplish that (lower prices) by ticket price versus being promotional," said Needham and Co analyst Christine Chen, adding that lower vendor costs will offset the hit to profit margins.
Konik sees a buying opportunity. Abercrombie stock is valued at 18 times estimated 2010 earnings, in line with American Eagle, though at a premium to Aeropostale's 12.
WHEN NAKED ISN'T ENOUGH
Changes will be most apparent at Hollister and Abercrombie chains, which compete with lower-priced rivals.
"Management sent a strong statement that they are reacting to the current pricing environment and are willing to take the necessary steps to drive the top-line," wrote Credit Suisse analyst Paul Lejuez, who rates shares "outperform."
While the company will continue to hold its successful traffic-driving clearance sales, lower original prices will allow more value-conscious shoppers to buy without undermining the feel of stores, Chen argued.
"You contrast that with someone like Eagle, who has been promotional. Yes, that has improved their traffic ... but the effect of it has dwindled because there is no call to urgency. It's always on sale," she said.
To be sure, Abercrombie needs to address other issues beyond simple pricing. The company -- which employs near-nude male models on billboards and live at store openings to entice shoppers -- has been slow to catch on to trends, some say.
Its casual offerings have become a status symbol for many an American teen but its fashions evoke "summer on the dock" more than "hipster at a nightclub" -- which has driven customers to trendier names like Forever 21 or H&M (HMb.ST).
"Teens are craving differentiation and individuality, not preppy sameness," wrote Wall Street Strategies' Brian Sozzi.
CEO Jeffries, lamenting what he called "a cycle that lacks a dominant trend in the female business," said the company would introduce more pizazz to its merchandise, whether ruffles or prints, to spice up its monochromatic basics.
"Trends that appear to have some traction are not ... the classic, casual, preppy, all-American sportswear that is core to our heritage," he said.
While deeming the latest swing in tastes transient, he vowed nonetheless to try to correct the assortment by the crucial back-to-school season.
Another concern is Abercrombie's seeming attachment to its Ruehl division. It has been loath to shutter the chain even as Gap Inc (GPS.N) and Aeropostale have pulled the plug on secondary brands Forth and Towne and Jimmy 'Z, respectively.
"Bluntly, Ruehl should have been closed in 2008," wrote Sozzi, who has a "sell" rating on shares. It was "a misguided concept from inception" because the retailer tried to sell only marginally better-quality merchandise at inflated prices.
Ruehl, which logged a 34 percent decrease in same-store sales in the first quarter, has found few fans from shoppers or Wall Street analysts also because of its space-hogging stores and a product line not too distinct from Abercrombie & Fitch's.
"The announcement was certainly viewed by the Street as a positive one," said Chen, who has a "buy" rating on the shares. "The Street is not in favor of this concept."
Abercrombie shares were down $1.15 or 4.2 percent at $26.10 on the New York Stock Exchange on Friday afternoon, off an earlier low at $25.52.
(Reporting by Alexandria Sage; Editing by Edwin Chan and Matthew Lewis)
(([email protected], + 1 415-677-3923; Reuters Messaging: [email protected]))
((See blogs.reuters.com/shop-talk/ for Shop Talk -- Reuters' retail and consumer blog.)) Keywords: ABERCROMBIE&FITCH/
(C) Reuters 2009. All rights reserved. Republication or redistribution ofReuters content, including by caching, framing or similar means, is expresslyprohibited without the prior written consent of Reuters. Reuters and the Reuterssphere logo are registered trademarks and trademarks of the Reuters group ofcompanies around the world.nN15280531
© Thomson Reuters 2023 All rights reserved.