American Eagle quarterly profit plunges
CHICAGO, Aug 27 (Reuters) - American Eagle Outfitters Inc (AEO.N) posted a 52 percent drop in quarterly profit on Thursday 27 August, falling short of its recent forecast, and gave a weaker-than-expected outlook.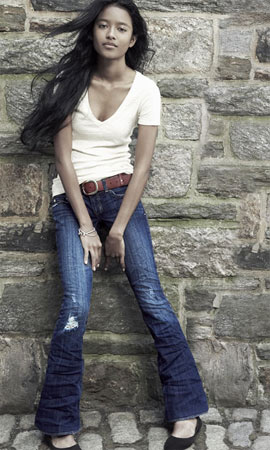 American Eagle Outfitters - Photo: www.ae.com
Net income in the second quarter ended Aug. 1 fell to $28.6 million, or 14 cents per share, from $59.8 million, or 29 cents per share, a year earlier.
Analysts, on average, had expected 14 cents per share. Earlier this month the company said it expected 16 cents per share, up from a prior forecast of 12 cents to 15 cents.
Sales fell 4.5 percent to $657.6 million. Sales at stores open at least a year fell 10 percent. American Eagle, which also operates the aerie lingerie line for teen girls and newly launched 77 Kids stores for children, has posted weak sales over the past year.
American Eagle shares were down 5 cents to $14.53 in early trade on the New York Stock Exchange.
The company has faced fierce competition from lower-cost rivals in the mall, especially from high-flying Aeropostale Inc (ARO.N). Competition has only intensified during this back-to-school season, as retailers hope to lure spending-averse shoppers.
Analysts, on average, expect American Eagle's same-store sales to fall 7.5 percent in August, but expect Aeropostale's same-store sales to climb 7 percent, according to Thomson Reuters.
Customers appear to like American Eagle's redesigned denim, and women's clothing has continued to gain traction, Chief Executive Jim O'Donnell said in a statement.
One area where sales are picking up is through the company's Web sites, where sales jumped 17 percent in the second quarter.
Second-quarter per-share results included a tax benefit of 2 cents and a non-cash, non-operating foreign currency loss of 2 cents related to holding U.S. dollars in Canada in anticipation of repatriation, which took place on Aug. 18. American Eagle forecast a third-quarter tax benefit of about 5 cents a share related to the repatriation.
The company expects to earn 22 cents to 25 cents per share in the third quarter, down from 30 cents a year earlier. The forecast includes the tax benefit.
Excluding the tax benefit, the forecast calls for earnings of 17 cents to 20 cents a share, well below analysts' average forecast for 24 cents, according to Reuters Estimates. (Reporting by Jessica Wohl; additional reporting by Alexandria Sage in San Francisco; Editing by Maureen Bavdek and John Wallace)
© Thomson Reuters 2023 All rights reserved.