Bebe's fourth quarter to beat street view, outlook to disappoint
By Viraj Nair
BANGALORE, Aug 26 (Reuters) - Tighter control on expenses should help Bebe Stores Inc (BEBE.O) post quarterly profits above Wall Street targets, but the retailer's earnings outlook for the first quarter of fiscal 2010 could disappoint investors.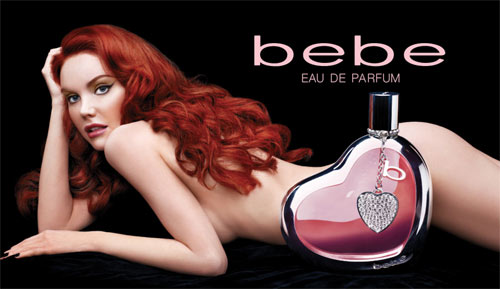 Eau de Parfum from Bebe - Photo: www.bebe.com
Retailers across the board have aggressively cut costs to fight slumping sales, helping many of them meet or even beat market estimates in the June quarter.
Bebe has reduced inventories, lowered its wage bill and closed underperforming stores to control costs as sales have fallen sharply over the past year.
"We are hoping some of Bebe's cost control efforts get them to 2 cents (for the fourth quarter)," Wedbush analyst Betty Chen told Reuters by phone.
Last month, the women's apparel retailer had warned that profit for the fiscal fourth quarter ended June was likely to be at or under the low end of its earlier earnings forecast of 2 to 10 cents.
"I think that the low end between 2 cents to 4 cents is definitely in play," Wall Street Strategies analyst Brian Sozzi said by phone.
Analysts on average expect the company to earn 1 cent a share, according to Reuters Estimates.
The Brisbane, California-based company in July said fourth-quarter sales fell 25 percent to $125.3 million, while same-store sales slumped 29.2 percent, as shoppers refused to open up their wallets to Bebe's high-priced merchandise.
To stem sales declines, Bebe revamped its brands and decided to convert its existing Bebe Sport stores into PH8 -- a new retail concept -- that sells active street wear and performance products.
Analyst Sozzi, who recently downgraded the stock to "hold" from "buy", expects the conversion to dilute earnings for the next 12 to 18 months.
OUTLOOK TO WEIGH
"Our checks suggest that July and August have not been very strong months for them," Wedbush's Chen said. "(Bebe's) forecast could come in below what consensus estimates are looking for right now."
The analyst, who has an "underperform" rating on the stock, feels the expected tepid outlook will pull down the stock.
Analyst Sozzi also believes that Bebe's earnings forecast will be below par as consumer discretionary spending remains weak.
"I'm not expecting much good news, I think they might highlight some of the success they had in maybe dresses and denim because those are two of the better trending areas in the retail market," he said. (Editing by Ranjit Gangadharan)
© Thomson Reuters 2023 All rights reserved.