Bodylook tradeshow coming back in July 2009
As announced at the end of 2008, the lingerie tradeshow Bodylook will henceforth be an annual event. It will return 26-28 July in Düsseldorf with a new setup.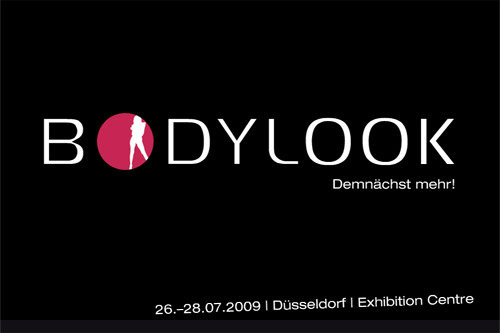 The new logo of the Bodylook tradeshow
Entirely redesigned (including the logo), Bodylook has been planned around the idea that different areas will correspond to their part of fashion. The biggest, christened "Downtown", will be the centre of economic activities at the tradeshow and will bring together large brands and big players in the lingerie and corseterie sector. Prepared like an arena the space will consist of clearly marked stands, high around their edges with a standardized size at the centre.
In the "Boutique Hotel" section the visitor will find top of the range labels, glamour and design. Visually; the stands will have a discreet yet luxurious charm and the understated elegance of a star hotel.
For the creative area, "Playground" will be made up of connected lifestyle brands. Axes of experimentation and innovation, the stands there will be cardboard based, whilst "Candy Shop" proposes a descent to erotic and mischievous accessories which might be able to finish off the supply list for any shop.
"Our new Bodylook is advancing under the mantle of progress, modernity and sensibility," said Kirstin Deutelmose, director of Bodylook. "This new orientation will be visible and perceptible – it is not only a change of logo, all methods of communication have been altered and even the presentation of the tradeshow itself."
Multiple labels have already confirmed that they will be attending, including Bad Hersfelder Dessous with
Chantal Thomass
,
Christian Lacroix
, Galliano, Gattina and
Kenzo
, Bruno Banani,
Calvin Klein
, Eva B. Bitzer with Fürstenberg, the Lejaby group, Elixir and Rasurel, Laryan Mehlhorn,
Premium
Bodywear with Olaf Benz and Manstore,
Simone Pérèle
, Susa, Rield, Rösch with Rösch, Blanche Fleur, Creative Culture,
Daniel Hechter
and
Féraud
Paris.
In Germany, Bodylook remains the number one platform for showcasing lingerie. An international, professional lingerie tradeshow, it also welcomes beach fashion, shoes and accessories to the event in the Düsseldorf Exhibition Centre.
By Jonathan Fulwell (Source: Céline Vautard)
Copyright © 2023 FashionNetwork.com All rights reserved.