Bon Marché Rive Gauche reveal new men's wear campaign
For once the great Parisian store decided to go for a male face to advertise their new men's fashion brand Balthazar. It was English photographer Miles Aldridge who captured the pictures.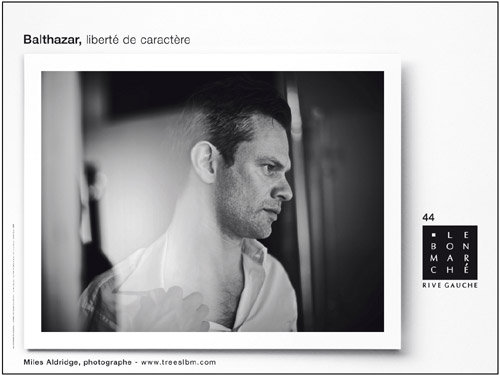 New campaign for Balthazar
"We chose to highlight a personality, a man of character," explained
Le Bon Marché
Rive Gauche. "Miles Aldridge is a complete artist with many different facets to his work. He is the Balthazar man of this season incarnate: dandy chic and audaciously stylish…"
Miles Aldridge, born in London in 1964, studied at a London school of art before becoming a fashion photographer. Today he works with magazines like
Vogue
Japan, Numéro Italie, Gloss, V,
Citizen
K and even the New York Times Magazine. His photos display a luscious world with dazzling colours, even saturated in colour, in each one ultra-smooth models, almost like wax models.
Strongly inspired by cinema, he enjoys playing with light and creating mysterious situations. Also, he was not surprised when his work, dreamlike and often slightly erotic, has been compared to that of Ingmar Bergman, David Lynch, Alfred Hitchcock and Jean-Luc Godard.
Managed by the marketing company "Les Ouvriers de Paradis", the Balthazar campaign will be noticeable starting from the 2 to the 19 April 2009. Loyal to the theme of the Parisian department store, the campaign will be in black and white.
By Jonathan Fulwell (Source: Céline Vautard)
Copyright © 2023 FashionNetwork.com All rights reserved.