Burberry accuses TJX of selling fakes
By Jonathan Stempel
NEW YORK (Reuters) - Burberry Group Plc (BRBY.L), a maker of luxury apparel, scarves and handbags, has sued TJX Cos (TJX.N), accusing the operator of the off-price TJ Maxx, Marshalls and HomeGoods stores of selling counterfeit goods.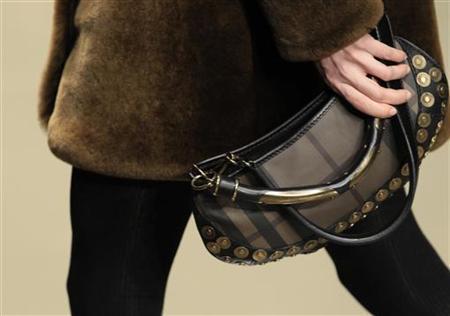 The trademark lawsuit was filed in Manhattan federal court on March 3, the same week the handbag and briefcase maker Coach Inc (COH.N) filed a similar complaint against discount retailer Kmart Corp, a unit of Sears Holdings Corp (SHLD.O).
Luxury goods companies are protective of their trademarks, fearing that misuse will damage their reputation, confuse consumers and reduce sales.
Burberry is perhaps best known for what it calls its "Burberry Check" trademark, a cross-hatched design typically using camel, red, black and white colours.
The British retailer said its trademarks "have become famous and serve to symbolize Burberry and its reputation as a manufacturer of high-quality luxury brand products."
In its lawsuit, Burberry accused TJX of selling various trademark-infringing products such as jackets, picture frames, polo shirts, scarves and luggage, over the past four years.
By selling counterfeit goods, Burberry said, TJX stores are trying "to attract their target customer base and profit at Burberry's expense."
In a statement, TJX spokeswoman Sherry Lang said the Framingham, Massachusetts-based company was "disappointed" by Burberry's claims, and that it has "not attempted to fool anyone" into believing they were buying Burberry products. She said TJX is contacting vendors who sold it the goods at issue.
TJX has been ramping up its upscale offerings, including such brands as 7 For All Mankind and Tahari, putting it into more direct competition with such retailers as Macy's Inc (M.N) and Saks Inc (SKS.N).
Burberry seeks to halt the sale of infringing products, the destruction of unauthorized products, a requirement that TJX make "corrective advertisements," triple damages and other remedies.
The case is Burberry Ltd v. The TJX Companies Inc, U.S. District Court, Southern District of New York, No. 10-01711.
(Reporting by Jonathan Stempel; additional reporting by Phil Wahba; editing by John Wallace and Andre Grenon)
© Thomson Reuters 2022 All rights reserved.