Carrefour keeps 2009 goals as market stable
PARIS, Aug 28 (Reuters) - French supermarket group Carrefour (CARR.PA) confirmed that full-year operating profit would fall up to 18 percent this year after it saw no change in the trend in its main domestic market during the summer.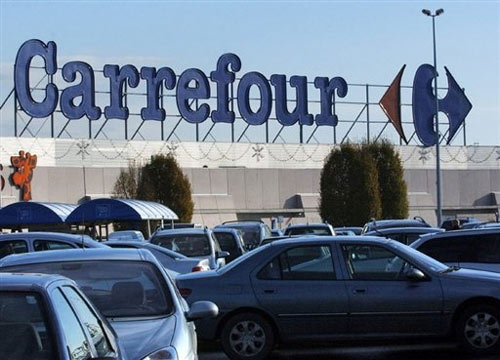 Photo: AFP
The world's second-biggest retailer confirmed that first-half operating profit fell 28 percent to 1.01 billion euros ($1.45 billion).
Profit for the full year is expected to decline to 2.7-2.8 billion euros from 3.3 billion last year "if current sales trends continue", Carrefour said in a statement on Friday 28 August.
Asked about developments in its main French market since the end of June, finance head Pierre Bouchut told journalists on a conference call that he had not seen any change.
"We are seeing no sign in our figures of a real pickup at the moment. We don't see any sign of deterioration compared with the first-half trend either," Bouchut said, adding that Carrefour's results reflected a "difficult environment".
The group, whose stores range from Ed hard discount shops to Carrefour hypermarkets, is spending on price promotions and has introduced a new range of discounted products to improve its image as an expensive retailer and become more competitive.
The group unveiled a plan to make savings of 4.5 billion euros by 2012 in June by cutting operating costs, improving purchasing terms and reducing inventory times to boost profits. Carrefour confirmed this plan on Friday 28 August.
"Our priorities for 2009 remain unchanged," Bouchut added.
The group plans to invest 600 million euros on promotions and bolstering market share and make operating cost savings of at least 500 million this year. It has capped capital expenditure at 2.5 billion euros.
The company swung to a net loss of 58 million euros in the first six months of the year from a profit of 744 million a year ago, Carrefour added.
Income was hurt by 511 million euros of one-time costs, including a 400 million impairment charge relating to Finiper in Italy to adjust the equity investment and put option relating to the business to fair market value. Without this, net profit would have fallen 41 percent to 421 million, Bouchut said.
($1=.6964 Euro)
(Reporting by James Regan, Editing by Sudip Kar-Gupta)
© Thomson Reuters 2023 All rights reserved.