Cavalli steps toward haute couture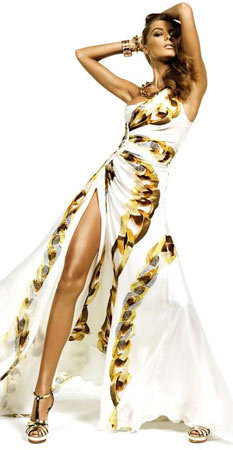 Roberto Cavalli 2009
PARIS, 8 July 2009 (Ansa) – Do not call it haute couture just yet, but only as this would imply a launch as big as "a nuclear bomb", explained Eva Cavalli. In fact this new initiative, christened "Roberto
Cavalli
Saint Honoré" and that was voted for as an exclusive service for special clients, is haute couture as it was once conceived.
Indeed, having opened a new boutique in Paris a few months ago,
Roberto Cavalli
has decided to welcome clients from around the world there for clothes that are only for grand occasions and who want to be treated like royalty. For them there is a second entrance and a private elevator to a second floor room complete with a white mink upholstered sofa.
The first client of this new 'label' is a young and extremely rich Middle Eastern lady who is getting married in a €300,000 dress, complete with veil and five metre long train.
Currently the fashion house produces a dozen unique dresses each year and the objective is to reach thirty. The craftsmanship is done in Italy, at dressmakers in Florence and Rome, and the embroidery and finishing in France.
Prices start at €30,000 and have no upper limit. Why not just call it haute couture? "Because it is not the moment, in general, in the world. And then also our company would be confronted with many changes," explained Eva Cavalli, confirming that the end of the transaction that would see the arrival of the Clessidra fund is expected "in September, when there will be data from the 2009 balance sheets. By lightening the management duties, we will certainly do great creative things."
By Jonathan Fulwell (Source: Ansa)
Copyright © 2021 ANSA. All rights reserved.