Coldwater Creek posts second quarter loss
Aug 26 (Reuters) - Women's apparel retailer Coldwater Creek Inc (CWTR.O) posted a second-quarter loss as increased promotions and occupancy costs ate into margins, sending its shares down 5 percent.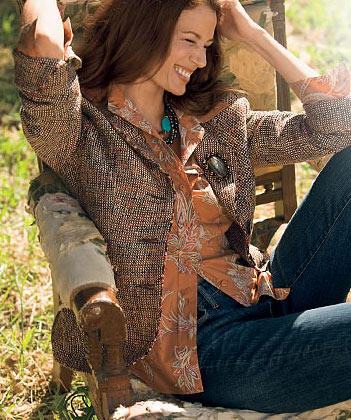 Coldwater Creek - Photo: www.coldwatercreek.com
The company, however, said it expects results to improve sequentially in the current quarter as it sees better fall offerings driving traffic at its stores and lower sourcing costs boosting margins in the second half of the year.
"We are encouraged by our results in August, but the environment remains challenging and results are still not where we want them to be," CFO Timothy Martin said on a call with analysts.
Coldwater Creek said its selling, general and administrative expenses could increase in the third quarter in the mid-single digits as it plans to make additional investments in marketing and inventory.
For the second quarter ended Aug. 1, the company posted a loss of $4.9 million, or 5 cents a share, compared with a profit of $3.1 million, or 3 cents a share, a year earlier.
Revenue fell 7 percent to $225.2 million.
Analysts on average were expecting the company to post a loss of 5 cents a share, before special items, on revenue of $222.5 million, according to Reuters Estimates.
Shares of the Sandpoint, Idaho-based company were down 5 percent at $6.85 in trading after the bell. They closed at $7.18 Wednesday 26 August on Nasdaq.
For related alerts double click (Reporting by Renju Jose in Bangalore; Editing by Vinu Pilakkott)
© Thomson Reuters 2023 All rights reserved.