Dior in talks with Simons to replace Galliano
Dior, the French fashion house part of the LVMH group, is in talks with Belgian designer Raf Simons to become the brand's chief designer, Women's Wear Daily reported on Tuesday.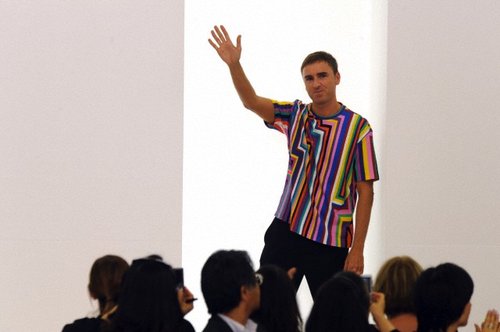 Raf Simons on the runway after Jil Sander's spring 2012 show / Photo: Corbis
Dior has been without a lead designer since March after sacking
John Galliano
for making anti-semitic remarks in a Paris bar. The fashion house's collections have since been under the stewardship of Bill Gaytten, Galliano's former right-hand man.
A spokesman for LVMH on Tuesday declined to comment. Back in Oct., Dior said choosing a successor to Galliano was still "a matter of weeks" and hoped to make an announcement before the end of the year.
Women's Wear Daily said talks with Simons were complicated by the fact that he was tied to his contract with Milan-based brand
Jil Sander
and a deal was not done yet.
(Reporting by Astrid Wendlandt; Editing by Jon Loades-Carter)
© Thomson Reuters 2022 All rights reserved.