Filene's Basement files for Chapter 11 protection
BANGALORE, May 4 (Reuters) - U.S. discount clothing retailer Filene's Basement Inc, which was recently acquired by an affiliate of the Buxbaum Group, filed for Chapter 11 bankruptcy protection on Monday 4 May, court documents showed.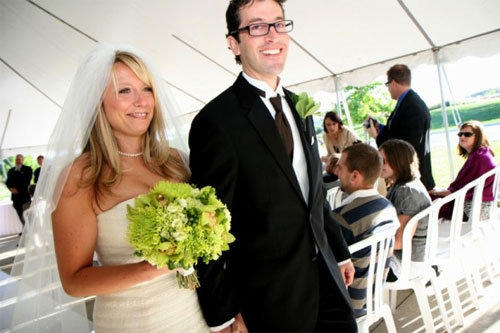 A happy couple decked out in clothes bought from Filene's Basement (Photo: www.filenesbasement.com)
In a filing with the U.S. Bankruptcy Court for the District of Delaware, the retailer listed liabilities of up to $500 million and assets of up to $100 million.
Filene's unsecured trade creditors included CIT Group/Commercial Services Inc (CIT.N) and the Jones Apparel Group (JNY.N), while the retailer's landlord creditors included Best Buy (BBY.N) and Federal Realty Investment Trust (FRT.N), according to the filing.
Retail Ventures Inc (RVI.N) last month sold Filene's Basement for no net proceeds, after the discount clothing retailer experienced "significant liquidity problems".
Filene's Basement was started about 100 years ago as a bargain basement for the Filene's department store in Boston to sell its excess merchandise. Federated Department Stores, now called Macy's Inc (M.N), had bought the chain in 1929. (Reporting by Ajay Kamalakaran; Editing by David Holmes)
© Thomson Reuters 2023 All rights reserved.