Gucci sues Guess in New York, claims designs copied
NEW YORK, May 6 (Reuters) - Italian fashion house Gucci sued rival fashion and leather goods label Guess Inc. on Wednesday 6 May, claiming it copied a dress design and several trademarked logos.
Gucci accused Guess Inc (GES.N) of imitating trademarked designs, including a green and red stripe, a repeated interlocking GG mark and stylized G mark it emblazoned on accessories like handbags, belts, gloves, watches and glasses.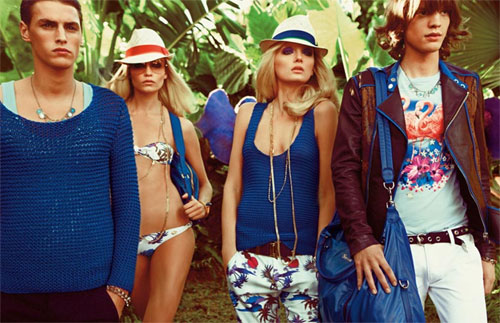 Gucci Spring-Summer 2009
The lawsuit, which was filed in Manhattan federal court and seeks unspecified monetary damages, also accused Guess of copying a dress featuring an interlocking GG diamond motif.
"Rather than going through the effort and expense of developing and creating their own unique designs, defendants have chosen to target Gucci by knowingly and slavishly replicating Gucci's world famous design elements and designations," the lawsuit said.
The Gucci Group is owned by France's PPR SA (PRTP.PA).
A spokesperson for Guess was not immediately available for comment. (Reporting by Christine Kearney; Editing by Michelle Nichols and Cynthia Osterman)
© Thomson Reuters 2023 All rights reserved.