Hermes says buying power of luxury clients unchanged
French luxury goods maker Hermes (HRMS.PA) sees no sign yet of affluent buyers tightening their
purse strings in spite of a sombre global economic outlook, the head of the brand said on Sunday at Paris Fashion Week.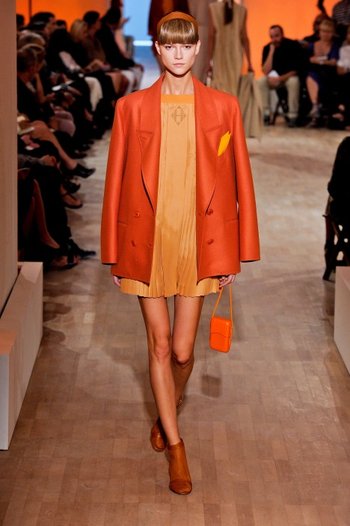 Hermès - SS 2012 / Photo : Pixel Formula
The luxury goods industry continues to grow at a solid pace thanks to tourist buyers in Europe and strong appetite in emerging markets, while more affordable products such as
L'Oreal
(OREP.PA) and
Clarins
cosmetics have felt a slowdown.
"For the moment, there is no impact on our sales," Hermes Chief Executive Patrick Thomas told Reuters at the brand's fashion show in Paris, adding that he thought the purchasing power of luxury consumers had not changed yet.
"But the fact that we see nothing today, does not mean that we will not see anything tomorrow," he added. "When there are moments of macroeconomic concern, they always tend to affect our markets."
Hermes, known for its 10,000-euro Kelly handbags, joins the chorus of luxury brands such as
Dior
,
Louis Vuitton
and
Lanvin
that said recently trading remained buoyant even if consumer confidence was down.
Last week, luxury goods stocks such as Burberry (BRBY.L), LVMH (LVMH.PA),
Swatch
(UHR.VX) and
Richemont
(CFR.VX) took a beating as analysts expressed concern the Chinese market -- the industry's main growth engine -- could slow and global demand could weaken.
Luxury stocks resisted well through the summer despite a stock market sell-off triggered by the debt crisis but late last month, investors started putting pressure on luxury valuations on expectations that market could be hit as well. "September sales went well," Thomas said. Rivals LVMH and PPR (PRTP.PA) are due to publish third-quarter sales figures later this month.
On a different matter, Thomas said Hermes would create "very soon" an internal controlling company holding that would make it harder for Hermes family shareholders to sell their
stakes to LVMH.
Two weeks ago, Hermes received the green light from a Paris court to create a structure that will lock in the descendants of the founding family for 20 years. Like other big luxury brands such as Louis Vuitton and Dior, which are part of LVMH, and
Chanel
, Hermes makes the bulk of its sales from leather goods and holds a show for its ready-to-wear collection at Paris Fashion Week twice a year.
Last year, Hermes severed ties with its star designer Jean-Paul Gaultier by selling its 45 percent stake in his company and replacing him with ex-
Lacoste
creative director
Christophe Lemaire
.
On Sunday, Lemaire presented a relaxed and comfortable spring/summer collection, featuring ample, long white tunics slit on the sides and minimalist bright orange dresses and pleated skirts.
His style contrasted with Gaultier's work, which tended to be more energetic and often delved into Hermes' leather and saddler's heritage. "What I am looking for in my work is a balance between something rich and simple, something that is easy to put on, easy to wear and that is evocative of travel," Lemaire told Reuters after the show.
By Astrid Wendlandt
(Editing by Dale Hudson)
© Thomson Reuters 2022 All rights reserved.