J Crew beats in quarter, shares rise 3.8 percent
SAN FRANCISCO, Aug 27 (Reuters) - J Crew Group Inc (JCG.N) on Thursday 27 August posted second-quarter net income that beat Wall Street estimates and the apparel retailer gave a third-quarter profit outlook that was higher than analysts' expectations.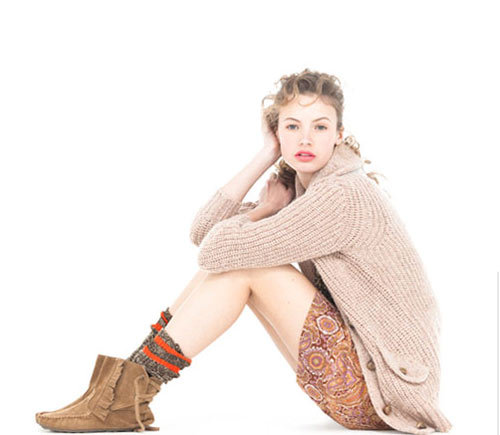 Womenswear from J. Crew - Photo: www.jcrew.com
Higher sales, a rarity within the apparel retail sector in the midst of the downturn, due to what the company called more unique product that shoppers can't find in other retail chains helped boost results, and the company's shares rose nearly 4 percent.
"Shares are up because people are assuming they're being conservative in the outlook," said Brean Murray, Carret analyst Eric Beder. "The company is better positioned now than it's been at any time this year."
J Crew, which also operates a catalog and e-commerce site, said net income in its second quarter ended Aug. 1 rose 3 percent to $18.6 million, or 29 cents per share, from $18.1 million, or 28 cents per share, a year earlier.
Analysts, on average, were expecting the New York company to post earnings of 15 cents per share, according to Reuters Estimates.
Same-store sales, a key gauge of retail strength, fell 5 percent, but total revenue rose 6 percent in the quarter to $357.6 million. Analysts had been expecting $347.06 million.
"This is not about a cutting-cost quarter, it's about building a product quarter," said Chief Executive Millard Drexler.
He added that consumers continued to buy at full price when they liked the product and that full-price selling of unique goods was the company's prime objective.
"You must maintain the integrity or they'll be no business left in 10 years because everyone could buy something cheaper," Drexler said.
J Crew began as a seller of preppy clothing for women and men, but now its stores feature more upscale items the company touts as unique. The sharp cutback in consumer spending has pressured recent sales results, but J Crew has been working to fix high inventory levels, which cut into profit margins earlier in the year.
Beder said that J Crew was one of the best positioned retailers to take advantage of an uptick in spending later this year.
"What we've seen this fall is, if it's differentiated and unique, people are starting to spend money again," he said. "And because inventory is down .. they'll have much less pressure to discount than last year."
Gross margins in the second quarter were 41.2 percent of total revenues up from 41.0 percent a year earlier, while inventory was down by 11 percent.
Selling, general and administrative costs rose to 32.2 percent of sales from 31.6 percent a year earlier.
The company said third-quarter earnings should range between 30 cents to 33 cents per share, compared with the 30 cents per share expected by Wall Street.
Shares rose in extended trade to $34.00, after closing at $32.76 on the New York Stock Exchange. (Reporting by Alexandria Sage; editing by Carol Bishopric, Leslie Gevirtz)
© Thomson Reuters 2023 All rights reserved.