Lacoste presented first jewellery collection in New York
It was during Fashion Week in New York that Lacoste launched its first jewellery range. Produced under a license with GL Jewellery Group, it aims to expand the label's orientation towards women.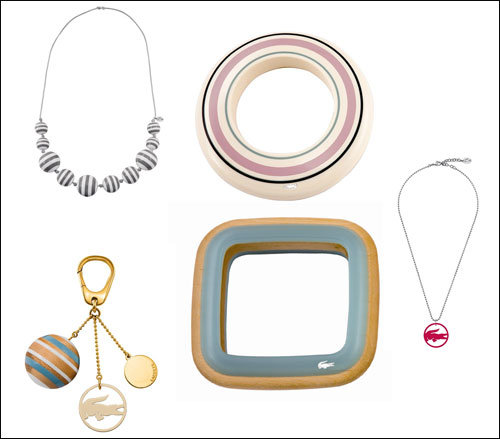 Lacoste's first jewellery collection
While Lacoste has appointed
Felipe Oliveira Baptista
as new artistic director, the brand with the crocodile logo shows more than ever its ambitions to expand its offering for women who account for only a fifth of sales compared to 75% for men and 5 % for kids.
Five themes form this first collection that is intended to be consistent with the ready-to-wear spring-summer 2011. Women's Club pieces, graphic, include square and circle resin bracelets and chains accented with crocodile charms. The Midsummer theme comes in stripes in shades of pink for the accessories; a bag, a mobile and bracelets. New Wave is a nautical theme with navy and white. Bloc Color is sporty with numbers 1212 referring to the L.12.12 polo in colours yellow, red. Finally, very chic, Everyday Essentials is all in gold and silver not forgetting the label's famous crocodile.
Each piece will be sold in a small cotton pouch with a Lacoste polo shirt on. Emphasis was placed on the quality of materials that are meant to be resistant and hypoallergenic. Lacoste, contracted with GL Jewelry Group is the ninth worldwide license granted to an industrial partner. The agreement with GL Jewellery Group provides design, production and distribution for jewelry Lacoste.
Original by Celine Vautard. Translated by Rosie Hart
Copyright © 2022 FashionNetwork.com All rights reserved.