Levi Strauss results hit by US retail bankruptcy
By Alexandria Sage
SAN FRANCISCO (Reuters) - Levi Strauss & Co said on Tuesday 14 April that its quarterly net profit fell by half due to recent bankruptcies by some of the jeans maker's U.S. customers, and weak performance of its Dockers brand.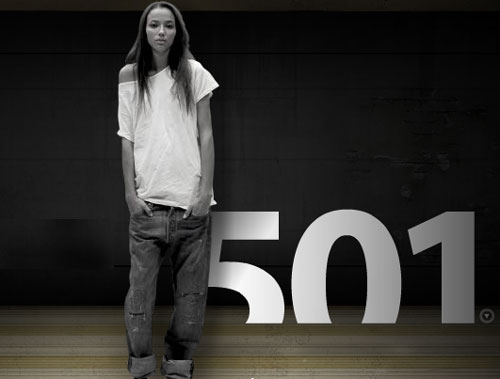 Levi's 501 Spring-Summer 2009
The maker of the classic Levi 501 blue jean, which has been trimming costs in the difficult selling environment, said net profit in the company's first quarter was $48 million (32.2 million pounds) compared to $97 million a year earlier.
The private company said sales fell 12 percent in the quarter. In the Americas region, which includes the United States, sales fell 13 percent. They fell 19 percent in Europe, but rose 3 percent in the Asia Pacific region.
Nearly half of the overall revenue decline was due to the negative effect of a stronger U.S. dollar on international sales.
Sales rose at new company-operated and franchised stores, Levi Strauss said.
Levi Strauss, which supplies major retailers like Wal-Mart Stores (WMT.N) and Macy's (M.N), and operates its own stores, has been hit by retail bankruptcies claiming its customers, namely the Goody's and Mervyns apparel chains.
In the United States, sales were also affected by more markdowns on Dockers products, the company's khaki and sportswear line that is in the midst of a revamp of styles and fits. The Dockers brand has been hardest hit by the U.S. economic doldrums, more so than Levi Strauss' jeans business.
Goods in the year-ago quarter shipped early in advance of the roll-out of a business support system also hurt sales.
Chief Executive John Anderson said the first-quarter results were expected given the difficult global operating environment that has caused shoppers to cut back on purchases, and retailers to reduce inventory.
Selling, general and administrative costs fell nearly 6 percent in the quarter, helped by lower advertising and corporate spending.
Levi Strauss, which is privately held, reports results due to its publicly traded debt, which at the end of the first quarter stood at $1.8 billion.
(Reporting by Alexandria Sage; Editing by Tim Dobbyn, Richard Chang)
© Thomson Reuters 2023 All rights reserved.