Lie Sang-Bong exhibits in London
The Korean Cultural Centre UK in London has invited four artists to present their vision of Hangul: Korean writing. Amongst them is fashion designer Lie Sang-Bong, who has often used ancestral characters in his work.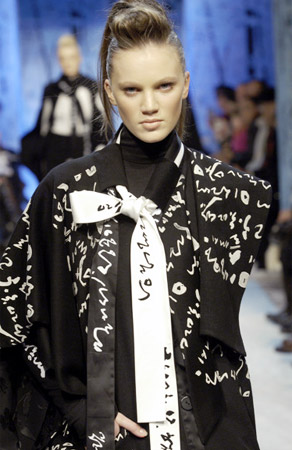 Lie Sang-Bong Collection Autumn-Winter 2006/2007
Alongside the designer will be the photographer Chun Kyung-Woo, calligrapher Kim Jong-Won and typographist/designer Ahn Sang-Soo.
Lie Sang-Bon, who is greatly attached to his Korean roots, has often found the Hangul to be a source of inspiration for his fashion collections. The star designer in his country, Lie Sang-Bong has shown his work on the catwalks of Paris fashion week since 2002 with the Hangul making its first appearance in his work in 2005.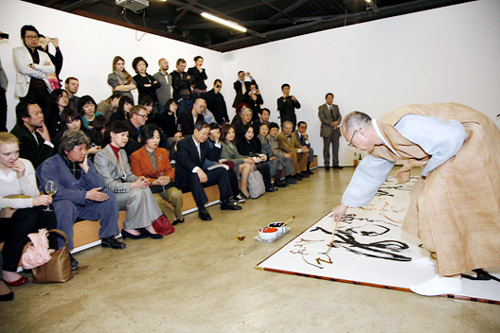 Opening of the exhibition with a calligraphy performance by Kim Jong-Won
The exhibition "Hangul = Spirit: Inspired by Korean Characters" is the brain-child of Stephanie Seungmin Kim and was co-organised by herself and Kim Chi-ho, who works with Lie Sang-Bong. Fashion designs, photographs and calligraphy will all be on display at the exhibition, which will run until 16 May 2009.
(Hangul = Spirit until 16 May 2009, Korean Cultural Centre UK, Grand Buildings, 1 – 3 Strand, London, WC2N 5BW)
By Jonathan Fulwell (Source: Céline Vautard)
Copyright © 2023 FashionNetwork.com All rights reserved.