LVMH confident on 2011 as Q3 sales rise
PARIS, Oct 18 (Reuters) - LVMH , the world's biggest luxury group, posted forecast-beating third-quarter sales growth on Tuesday and said it was confident for the rest of 2011, showing no signs of a slowdown in the luxury industry despite the slowing economy.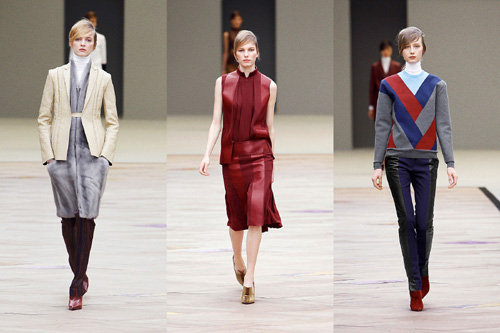 AW 2011 collection by Céline (owned by LVMH)
The company said like-for-like sales rose 15 percent to 6.01 billion euros ($8.27 billion) in the three months to Sept. 30, beating the average estimate in a Reuters poll of 10 analysts of 5.8 billion.
"The third quarter showed a continuation of the trend evident since the start of the year," LVMH said in a statement. "The momentum continued in Asia, Europe and the United States, while Japan returned to growth over the period."
The maker of
Louis Vuitton
handbags added that the first nine months of the year had confirmed its confidence for the remainder of 2011.
"The figures are good. They prove that the luxury sector is not experiencing any slowdown," one Paris-based analyst said.
At 0708 GMT, LVMH shares were down 1.4 percent, compared with a 1.6 percent drop on the French blue-chip CAC 40 index .
The comments by LVMH echoed those of British luxury goods group Burberry , which said last week it had seen "consistent strong brand momentum and business growth" and that there was no evidence of a slowdown so far.
Consultancy Bain & Co said on Monday that the growth outlook for the global luxury goods industry in 2011 was now stronger than it was in spring, despite worries about economic conditions.
On Monday, a senior executive at Italian fashion house
Prada
SpA was quoted in the Hong Kong Economic Journal saying it saw strong growth in China, with sales expected to triple in coming years.
LVMH said it benefited from contributions from Italian jeweller
Bulgari
, which it bought earlier this year and whose results were consolidated for the first time during the third quarter.
Nine-month sales jumped 76 percent at the group's watch and jewellery division, with like-for-like growth of 26 percent, LVMH said.
The group posted like-for-like growth of at least 10 percent at all its divisions in the first nine months of the year.
LVMH had nine-month like-for-like growth of 15 percent at its fashion and leather goods division, the largest contributor to sales, with double-digit percentage revenue growth at Louis Vuitton.
The group's wines and spirits division had 11 percent organic growth. Its champagne brands, which include Moet & Chandon and
Dom Perignon
, "benefited from the dual effect of sustained demand and a favourable product mix", LVMH said.
Sparkling wines also saw "rapid growth", while Asia continued to be a key market for its Hennessy cognac, LVMH said.
Luxury stocks including LVMH have recovered since a sell-off in late September and early October that was sparked by fears the sector could be hit by a spending slump.
Worries that the euro zone debt crisis could push the world back into recession added to concerns that emerging markets such as China, the engine of growth for the industry, could suffer an economic slowdown.
By James Regan
(Additional reporting by Pascale Denis and Michel Brito; Editing by Lionel Laurent and Mike Nesbit)
© Thomson Reuters 2022 All rights reserved.