LVMH says has no intention of making bid for Hermes
June 9 - LVMH, the world's biggest luxury goods group, dismissed renewed speculation it was planning a bid for smaller peer Hermes, known for its 10,000 euro Kelly bags and other upscale items.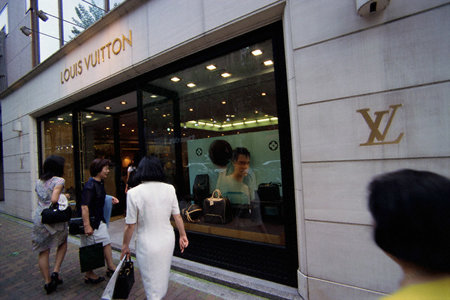 Shoppers look through the window of Louis Vuitton in Tokyo's trendy Ginza district (Photo: Corbis)
Hermes shares rose to a seven-month high on Thursday after an unsourced report in British newspaper the Daily Mail said LVMH, which owns around 20 percent of Hermes, was preparing to offer 350 euros a share for the remainder.
But the maker of
Louis Vuitton
bags,
Dior
perfumes and Tag Heuer watches, whose CEO
Bernard Arnault
has made little secret of his interest in Hermes, denied any takeover was in the offing.
"The LVMH group has absolutely no intention of making a bid for Hermes," a spokesman said.
Hermes shares, which have been climbing steadily in recent days, rose further and closed up 2.2 percent at nearly 192 euros, close to the peak they reached after LVMH said it had built up a minority holding.
In a related development, French markets regulator AMF disclosed a series of sales and purchases of shares by Hermes family members at 130 euros a share in late May and early June.
But spokeswoman for Hermes said none of the sales had been to outside parties.
"This is about a reclassification of stocks, the family has not cut its holding, it has not sold shares (to an external party)," the spokeswoman said.
The family is forming a holding company that will control more than 50 percent of the company, whose market capitalization is now nearly 20 billion euros, but that has not dampened talk that some of its members could be willing to sell at the right price.
(Editing by Christian Plumb and David Holmes)
© Thomson Reuters 2022 All rights reserved.