Marc Jacobs on his way to Christian Dior?
If rumours prove to be right, John Galliano's departure from Dior has triggered a serious game of musical chairs between designers at LMVH. Marc Jacobs seems to be the most likely candidate to take the creative reins at Christian Dior. As he is also currently the creative director at Louis Vuitton, the American designer would supposedly be replaced by British designer Phoebe Philo, who is the creative director of French brand Céline (also from the LVMH group).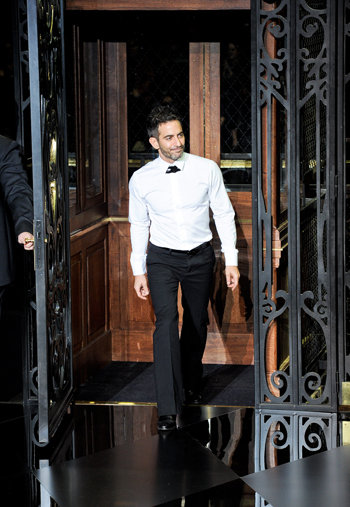 Marc Jacobs at Louis Vuitton's last catwalk show (Photo by Pixel Formula)
For the time being, none of the fashion houses involved in the "game" wished to comment on the speculations. However, according to fashion magazine WWD, talks between Dior and Marc Jacobs, who has been serving as Louis Vuitton's creative director for nearly 14 years, are becoming very serious.
Since John Galliano was dismissed from his position in April this year, his former assistant Bill Gaytten has been leading Dior's design team in his absence. With the fashion house's next ready-to-wear catwalk show taking place in just under a month, the transfer of powers could be happening anytime soon in order to get Dior's couture collection ready to be presented in January.
However, CEO
Sidney Toledano
made it clear at the beginning of summer that Dior is in no rush to find a new designer, and that he would not appoint just anyone to the role in 2011 until the real gem is found.
Copyright © 2022 FashionNetwork.com All rights reserved.