Mariella Burani and Antichi Pellettieri discuss their integration
The directors of Mariella Burani Fashion Group Plc and Antichi Pellettieri Plc met on the 13th of March to finalise talks on the two companies merging with the objective of simplifying the group's structure.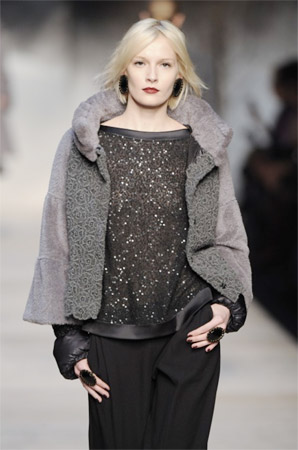 Mariella Burani fashion show Autumn-Winter 2009-2010 - Photo : Pixel Formula
This meeting between the leather division of Antichi Pellettieri and Mariel Burani Fashion Group (MBFG) and the parent company is still ongoing, but a decision is expected to be made by the end of March.
By fusing the two the aim is to simplify the structure of the group and to bring the chain under control. There would be other benefits as well, such as: the reinforcement of capital, increased ability to take decisions quickly and therefore adapt better to different markets, increased efficiency resulting from concentrated activity, cost reduction and an optimization of management.
"With the simplification of the group we expect to increase the value of stock for our shareholders and to raise our industrial, operational and financial effectiveness," declared Walter Burani, President of the Board of Directors and Director-General of MBFG.
By Jonathan Fulwell (Source: Céline Vautard)
Copyright © 2023 FashionNetwork.com All rights reserved.