Penney, Abercrombie results show consumers wary
NEW YORK - Retailers J.C. Penney Co Inc (JCP.N) and Abercrombie & Fitch Co (ANF.N) posted results that showed consumers were still wary about buying non-essential items.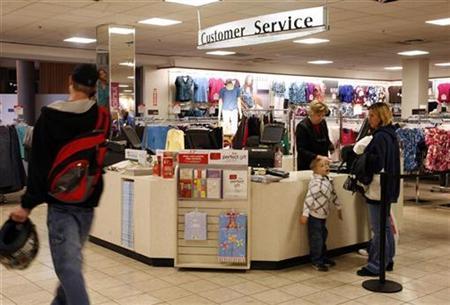 The recession, mounting job losses and credit worries have hammered consumers, who are steadfastly sticking to shopping lists for food and other essentials, shunning items they do not need, and seeking deep discounts where they do buy.
"There are more shoes to drop on the employment front," said Ken Perkins, president of research firm Retail Metrics. "Couple that with ... the devastation in total net worth of consumers... and (you have) a propensity for Americans to finally realize 'Oh my God, I actually have to save.' The more we save, the less we spend."
Department stores like Penney have been especially hard-hit as consumers focus on buying only what they must have, while Abercrombie had stubbornly tried to keep many prices higher than rivals', running afoul of shoppers searching for bargains.
But hurting from the latest quarter's loss, Abercrombie said it is working to reduce prices across all brands.
"With a challenging economic environment, the consumer continues to show a reluctance to spend on premium brands; a price consciousness dictating shopping habits unlike anything I have ever seen," said its Chief Executive Mike Jeffries, a retail industry veteran.
The teen clothing retailer, whose casual fashions -- and higher prices -- have evoked the good life for many American teenagers, posted a first-quarter loss wider than Wall Street's expectations, and said it was conducting a strategic review of its struggling Ruehl chain.
Meanwhile, Penney posted an in-line quarterly profit, but forecast second-quarter and full-year results below analysts' expectations.
The mid-priced chain, which has been trimming inventories and offering fewer discounts to drive profitability, has tried to emphasize affordable prices and trendy items to entice cash-strapped shoppers.
But 2009 should remain rough, Penney warned.
"We expect consumer spending and mall traffic to remain weak, which will be particularly evident against tough comparisons in the second quarter," CEO Myron "Mike" Ullman said in a statement on Friday.
PENNEY TROUBLES
Penney's net profit was $25 million, or 11 cents per share, for the fiscal first quarter ended May 2, compared with a profit of $120 million, or 54 cents per share, a year earlier.
Analysts had expected a profit of 11 cents per share on average, according to Reuters Estimates.
Sales fell 5.9 percent to $3.88 billion, while sales at stores open at least one year fell 7.5 percent.
Penney's troubles reflect the pressure in the department store sector. Earlier this week, rival Macy's Inc (M.N) posted a 9.5 percent drop in first-quarter sales and stuck to its forecast for sales to fall for the full year.
For the second quarter, Penney forecast a 7 to 10 percent fall in total sales and a loss of 15 to 25 cents per share. Analysts have expected a loss of 9 cents per share.
So far, sales in May have not been dramatically different from the first quarter's trends, the company said.
For the year, Penney expects a per-share profit of 50 to 65 cents and a same-store sales fall of about 9 percent.
Analysts have expected a profit of 75 cents per share.
Penney shares were down 15 cents or 0.6 percent to $26.50. But earlier they had risen as high as $27.85.
"They are looking at their guidance and thinking its too conservative," said Thomas Weisel analyst Liz Dunn.
ABERCROMBIE MISS
Abercrombie's net loss was $26.8 million, or 31 cents per share for the first quarter ended May 2, compared with a year-earlier net profit of $62.1 million, or 69 cents a share.
Analysts, on average, had expected a loss of 12 cents per share, according to Reuters Estimates.
Sales fell 24 percent to $612.1 million, while same-store sales fell 30 percent.
Abercrombie has lost out on sales by sticking to its higher prices in an economy that has forced even teenagers to be mindful of how they spend.
But with its new willingness to reduce prices, "management sent a strong statement that they are reacting to the current pricing environment," Credit Suisse analyst Paul Lejuez wrote.
Abercrombie's strategic review of Ruehl, which posted a drop of 34 percent in same-store sales, may result in a noncash impairment charge of up to $55 million for the first quarter.
Its shares were down $1.25 or 4.6 percent at $26.00.
By Aarthi Sivaraman (Additional reporting by Dhanya Skariachan in Bangalore; Editing by Dave Zimmerman and Gerald E. McCormick)
© Thomson Reuters 2023 All rights reserved.