Prada to restructure its debt
Prada could be in the process of restructuring its debt. This would allow the fashion house to free up funds to open new stores and continue to take advantage of new opportunities in the recession; in effect, a crisis strategy.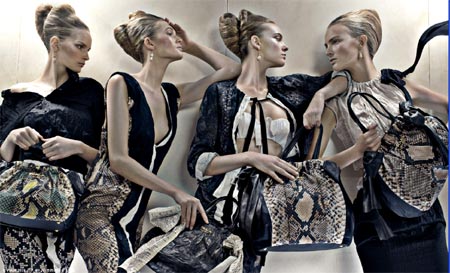 Prada advertising campaign 2009
According to the Italian media group Ansa and Bloomberg, Prada's debt could reach €1.2 billion. On this note, two people familiar with the case explained to Bloomberg that in 2008 the label's profits had decreased and fixed costs increased.
To face the crisis Prada, which has fewer boutiques across the world than
Gucci
or
Louis Vuitton
, could even go further into debt to bring the number of is boutiques in line with similar brands. Indeed according to some observers times of crisis are propitious circumstances to expand sales networks.
By Jonathan Fulwell (Source: Sarah Ahssen)
Copyright © 2023 FashionNetwork.com All rights reserved.