Rena Dumas, the wife of Jean-Louis Dumas – former president of Hermès, passed away as a result of cancer on the 27th of April in Paris. She had notably been responsible for the interior design of more than three hundred luxury stores and leaves unique, modern and sensible handiwork .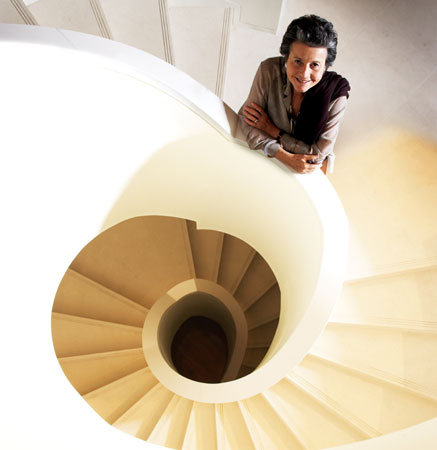 Rena Dumas
The head of her own agency, Rena Dumas Interior Architecture (RDIA) from 1972, Rena Dumas discovered architecture by watching her brother, who was at the time a student at the technical school in Athens. An applied arts and crafts graduate of the Ecole Nationale Supérieure in Paris, she continued her studies in Greece and in the USA, where she met the architect André Wogensky in 1968 who would help her to expand her horizons. "Architecture is an event. It is meant to be lived in, it is a generous act", she declared. She also created, over twenty something years, folding furniture and other items.
For more than thirty years Rena Dumas spread her style to the four corners of the globe. Each time, showing a desire to "shun the anecdotal and the ephemeral". "Each project starts by studying the country, the city, the road and ends as a journey through the building and its interior." Light constituted "the constant, most evident of all [her] work", "it is a basic need which certainly goes back to my Greek origins. The paradoxical combination of clarity and intimacy is a topic that fascinates me, that's to say to put light at the service of intimacy."
Collaboration with the fashion house Hermès started in 1976. More than three hundred boutiques carry her signature today. One of the latest: the emblematic 24 Rue du Faubourg Saint-Honoré in Paris following its comple refit in 2007.
Interview with RDIA
By Jonathan Fulwell (Source: Emilie-Alice Fabrizi)
Copyright © 2023 FashionNetwork.com All rights reserved.