Richemont profit tops forecast, gives gloomy outlook
ZURICH, May 14 - Richemont (CFR.VX), the maker of Cartier watches, beat forecasts with a 12 percent drop in its full-year operating profit, boosting shares, but cautioned it faced tough markets and said its head would step down this year.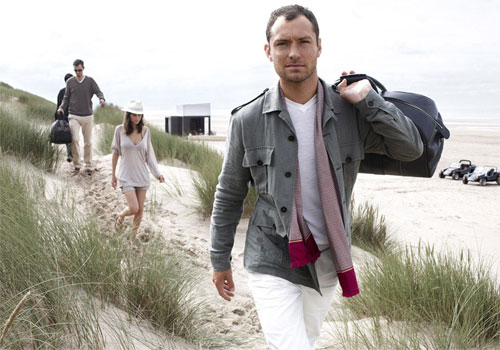 Jude Law for Dunhill, one of the Richemont brands
Operating profit at the world's third-largest luxury goods group fell to 982 million euros ($1.34 billion), ahead of the average estimate of 929 million euros in a Reuters poll of 16 analysts.
Richemont, which is behind brands such as Montblanc, Alfred Dunhill and IWC, said it was impossible to predict when markets would improve and that conditions would be very challenging until September after sales in April tumbled 26 percent in constant currencies.
"There are currently very few encouraging signs in the global economic picture. The U.S. market is very weak and conditions in Japan have been poor for some time. Most European markets are unsettled and trading remains hesitant," Richemont said.
By 0838 GMT, shares traded 3.5 percent higher at 21.42 Swiss francs, outperforming a 0.5 percent fall in the DJ personal and household goods index .SXQP.
Demand for luxury accessories and timepieces has withered in recent months as consumers worry about possible job losses and their shrinking portfolios as a result of the worst economic downturn since World War II.
"At first glance the sales and operating profit figures are better than expected and I would expect the stock to rally initially at least even if the net figure looks light, said Kepler Capital Markets analyst Jon Cox.
"However the CEO going is obviously a shock and it looks like sales declined again in April after some stabilisation in the January to March period," Cox said.
CEO TO STEP DOWN
CEO Norbert Platt would step down at the end of 2009 after holding the position for five years, Richemont said without naming a successor and Chairman Johann Rupert said on a conference call the group would make further announcements when it was ready.
"I am very sorry that Norbert has chosen to retire. He is in his early sixties. I did have to persuade him to come and help me five years ago. He and especially his wife were very happily living in Hamburg," Rupert said on the call.
"The stress has taken a bit of a toll on his health. He is diabetic and he is very, very sad to say that following medical advice he would rather finish his contract and not extend it," Rupert said.
Citi analyst Thomas Chauvet said the news was negative as Platt had helped to improve the group's cost discipline and operational efficiency.
The group's operating margin fell to 18.1 percent from 21.1 percent in the year-ago period and the group is taking measures to keep costs under control, such as shutting 62 stores and striking pay rises for the fiscal year ending March 31, 2010.
Richemont has already introduced shorter working hours at its Cartier and Piaget marques and a hiring freeze has been in place since October, although this does not include retail staff.
Sales at the group, which trails France's LVMH (LVMH.PA) and Hermes (HRMS.PA), edged up 2 percent to 5.418 billion euros, boosted by a stronger first half, but fell sharply in the second half of the year after many of the company's traditional customers like bankers scaled back on spending on pricey treats.
Net profit at the group fell 23 percent to 751 million euros when excluding the BAT stake that was spun off last year.
The group also said it was extending until May 2011 its programme to buy back up to 10 million Richemont 'A' shares, representing 1.74 percent of capital and 0.96 percent of the voting rights.
Analysts have said that Richemont, which is controlled by South Africa's Rupert family, is relatively well positioned to weather the downturn thanks to its top-end brands such as Vacheron Constantin, Lange & Soehne and Jaeger-LeCoultre as well as its strong balance sheet.
Richemont trades at 13.49 times expected 2010 earnings, at a slight premium to Swiss rival Swatch Group at 13.15 times, according to Thomson Reuters data. ($1=.7327 euros) (Editing by Mike Nesbit)
© Thomson Reuters 2023 All rights reserved.