Richemont soars after BAT tobacco spin-off
ZURICH (Reuters) - Shares in Switzerland's Richemont surged on Tuesday, October 21st as markets welcomed the group's first trading day as a pure luxury play following the spin off of its stake in British American Tobacco.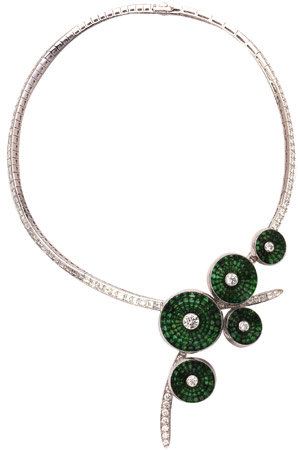 Necklace Bouquet by Van Cleef & Arpels
Shares in the new Richemont, which is now Europe's second-biggest luxury goods specialist, soared 37 percent to 25.58 Swiss francs when compared with a pro-forma closing price of 18.73 francs.
Richemont reached this closing price through a calculation for its luxury component excluding BAT.
"It is clear that the strategy has been a success," Kepler Capital Markets analyst Jon Cox said.
Ninety percent of the BAT stake will be distributed to shareholders at the beginning of November and the rest will be held in new investment vehicle Reinet Investments.
Reinet shares, which began trading at 11 a.m. British time on the Luxembourg Stock Exchange, were changing hands at 13.00 euros at 11:50 a.m. British time, meaning the combined Reinet and Richemont shares were about 5 percent stronger versus Monday's closing price of 42.90 francs for the two components.
One Zurich-based trader said a fair price for the new Richemont shares would be around 31 francs now the group was directly comparable with groups such as LVMH, Bulgari, Hermes or Swatch Group.
Vontobel analyst Rene Weber raised his price target for the group to 32 francs, pointing to Richemont's high-quality luxury brands portfolio, such as Cartier and Van Cleef&Arpels in jewellery and specialist watchmakers including IWC, Jaeger-LeCoultre and Vacheron Constantin.
Investors who had until now not been able to invest in Richemont because for ethical reasons due to the tobacco stake will now be able to buy the shares, boosting the shares further, Weber said.
Strong Swiss watch export data also helped to lift the shares, Weber said.
Swiss watch exports rose in September by 15.1 percent on the year to 1.53 billion Swiss francs (781.3 million pounds). Growth was above an average of 13.3 percent for the first nine months of the year and defied an overall slowing in Swiss exports..
Shares in Swiss rival Swatch Group were up over 7 percent at 194.30 francs, outperforming a 2 percent rise in the DJ Stoxx Personal and Household Goods index.

(Reporting by Katie Reid; Editing by Quentin Bryar)
© Thomson Reuters 2023 All rights reserved.