Richemont taps Rupert for CEO as watch sector mends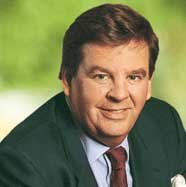 Johann Rupert
By Katie Reid
ZURICH, Nov 13 (Reuters) - Richemont (CFR.VX) Executive Chairman Johann Rupert is taking on the chief executive job at the luxury group, tightening his grip as sales suggested the watch industry could be set for recovery.

Rupert, a South African billionaire known for his hands-on approach, will take over from Norbert Platt as CEO from April 1, adding the job to his current role as executive chairman, the world's second-largest luxury goods group said on Friday 13 November.
Investors welcomed the appointment of former investment banker Rupert, 59, to the helm of the company behind Cartier jewellery and Montblanc pens as an experienced operator who knows the company inside out.
"In these challenging times, we want to ensure consistency in our management approach. Richemont has strong management in the maisons, in the regions and in our central functions and I look forward to working more closely with my colleagues," Rupert said.
The move broadens the already extensive influence of Rupert, whose family also holds a controlling stake in Richemont, and will allow the group to keep its top talent at the head of its influential brands such as Cartier.
At 1033 GMT, Richemont shares were trading 4.9 percent higher at 31.76 Swiss francs, outperforming a slightly higher DJ Stoxx European personal and household goods index .SXQP and pulling shares in Swiss rival Swatch Group (UHR.VX) 2 percent higher.
Platt, a German citizen born in 1947, is stepping down for health reasons after running the 17 maisons under the Richemont umbrella for five years.
Rupert, who acted as CEO for around a year after the departure of Alain Perrin in 2003 before handing over to Montblanc veteran Platt, said he would be chief executive for a minimum of two years this time.
"We welcome the announcement of Mr Rupert as CEO again, as he always was responsible for the company's strategy," said Vontobel analyst Rene Weber.
ON THE PATH TO RECOVERY?
Consumers' appetite for watches and jewellery, which represent about 78 percent of Richemont's total revenues, has dwindled during the sharpest economic downturn in decades due to worries about job cuts and the shrinking value of investment portfolios.
Richemont was cautious in its outlook for the global economy and said it was prepared for a long recovery process as weakness persisted in the Americas, Japan and Europe in October.
But an 11 percent rise in sales in the Asia-Pacific region and Platt's comments that this year's Christmas sales were likely to be better than last year's suggested the beleaguered watch industry may be picking up.
French rival Hermes (HRMS.PA) said it was optimistic about the festive season after its sales improved in October, while LVMH's (LVMH.PA) watch and jewellery head forecast stronger demand for the group's watch brands this Christmas. [nL534356]
Richemont posted a 39 percent fall in first-half operating profit to 390 million euros ($584.9 million), ahead of the 333 million euros forecast on average in a Reuters poll. [nLA604690]
Sales of Richemont's products, which include high-end watch brands IWC and Jaeger-LeCoultre and Chloe handbags, fell 15 percent to 2.38 billion euros in the six months to the end of September, while group sales slipped 10 percent overall in October.
Some believe Richemont could outshine its sector peers as demand for watches and jewellery, hit hardest by the downturn should bounce back more strongly than for other luxury goods.[nLE41361]
"The company is ideally positioned to benefit from a gradual improvement in demand and has ample resources to invest in the continued strengthening of its position in emerging markets," said Helvea analyst Alessandro Migliorini.
(Editing by Erica Billingham; and Hans Peters)
($1=.6668 Euro)
(([email protected]; +41 58 306 7320; Reuters Messaging:[email protected])) Keywords: RICHEMONT/
(C) Reuters 2009. All rights reserved. Republication or redistribution ofReuters content, including by caching, framing or similar means, is expresslyprohibited without the prior written consent of Reuters. Reuters and the Reuterssphere logo are registered trademarks and trademarks of the Reuters group ofcompanies around the world.nLD701185
© Thomson Reuters 2023 All rights reserved.