Romeo Gigli dresses a Merce Cunningham ballet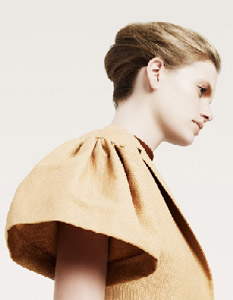 Io Ipse Idem collection Spring-Summer 2009
For his latest choreographic creation "Nearly Ninety", Merce Cunningham has called in
Romeo Gigli
to design the costumes, fresh from a new line for the brand Io Ipse Idem.
The brand, launched in Paris in February 2009, is a new start for the Italian designer; a new start which will be further developed on-stage thanks to Merce Cunningham. Furthermore, with the fusion of costumes and ballet the two men will not only be able to tell a story but express form and movement at the same time.
For the stage, Romeo Gigli has imagined costumes which give freedom to the body. Througout the ballet the clothes will develop and change along with the body they cover. Grey at the beginning of the performance, the costumes outline the body and highlight its movements. Then, gradually, a texture and human colour is added to the body and merges with it. Just as the dancers possess the stage, the costumes own the body.
Merce Cunningham has recruited Sonic Youth, John Paul Jones - the guitarist from Led Zeppelin – and the composer Takehisa Kosugi to write the music for the piece. The sound will be provided live from a platform on a stage designed by the Italian Bendetta Tagliabue.
Launched in New York on the 16th of April 2009 at the Brooklyn Academy of Music, where Merce Cunningham will celebrate his 90th birthday, the ballet "Nearly Ninety" will then travel to Europe: Madrid at the end of April, Paris, London and then on to Italy.

By Jonathan Fulwell (Source: Céline Vautard)
Copyright © 2023 FashionNetwork.com All rights reserved.