Saks cuts costs, TJX stays wary as thrift persists
NEW YORK (Reuters) - Saks Inc (SKS.N) sought refuge in cost cuts to post a smaller-than-expected quarterly loss amid falling sales as department stores lose customers to lower-priced outlets like TJX Cos Inc (TJX.N), which reported higher revenue.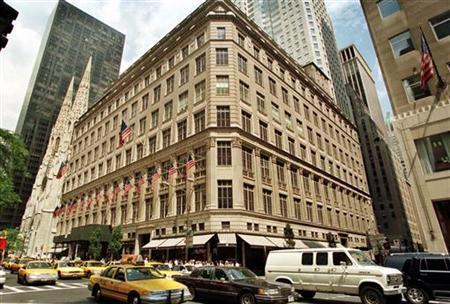 Saks said it is looking for even more ways to slash costs to combat a steep drop in sales that it still expects this year. The cuts would be wide-ranging, including reductions in advertising, executive travel and staffing levels in stores, said a spokeswoman for the high-end department store operator, whose shares rose 23 percent.
TJX, which operates the off-price T.J. Maxx and Marshalls chains, reported higher earnings in line with analysts' estimates. It said it would try to attract new customers by using more sources to buy branded merchandise and by taking advantage of real estate opportunities made available as other retailers cut back. Still, its plans were conservative, given the economic uncertainty, said TJX, whose shares were up 3 percent.
Saks and TJX, like most retailers, have witnessed wide cutbacks from consumers who are battling job losses, tight credit and a U.S. housing market slump. Where consumers do spend, they have hunted for discounts and stuck to needs such as food and toiletries.
Last week, other department stores such as J.C. Penney (JCP.N) and Macy's Inc (M.N) also signaled sales of discretionary items would remain under pressure.
Separately on Tuesday, the world's largest home improvement retailer Home Depot Inc (HD.N) beat expectations with its quarterly profit due to expense reductions. But it too is seeing sales suffer.
SAKS LOSS
Saks' net loss was $5.1 million, or 4 cents per share, in the fiscal first quarter that ended May 2, compared with a profit of $17.3 million or 12 cents per share, a year earlier.
Excluding some charges, its loss of 3 cents per share was much smaller than the loss of 26 cents per share expected on average, according to Reuters Estimates.
Sales fell 26.9 percent to $621.3 million, as sales at stores open at least a year dropped 27.6 percent.
For the full year, Saks still forecast same-store sales to decline in the low double digit percentage range. It is also targeting a 20 percent decrease in inventory for 2009.
Saks now expects a roughly $60 million reduction in 2009 selling, general and administrative costs, from its prior expectation of $20 million to $30 million.
It also said capital expenditures would be about $55 million, down from the $60 million it expected earlier.
P. Schoenfeld Asset Management LP, a hedge fund firm and Saks shareholder, has called for governance reforms at the struggling luxury chain.
TJX IN-LINE
Net income for TJX rose to $209.2 million, or 49 cents per share, in the first quarter ended on May 2 from $193.8 million, or 43 cents per share, a year earlier.
Analysts on average were expecting 49 cents per share after TJX raised its quarterly earnings forecast earlier this month to a range of 47 cents to 49 cents.
Sales rose 1 percent to $4.35 billion, even after a 6 percentage-point hit from the stronger U.S. dollar, which reduced the value of sales from overseas markets. Same-store sales rose 2 percent.
TJX, which buys excess apparel, accessories and home goods in bulk and sells them at deep discounts, said it expected to earn 43 cents to 49 cents per share in the second quarter.
Analysts on average were expecting 43 cents.
Saks shares were up 92 cents, or 23 percent, at $5.00 on Tuesday on the new York Stock Exchange, while TJX rose 85 cents, or 3 percent, to $28.79.
(Reporting by Aarthi Sivaraman, additional reporting by Martinne Geller and Dhanya Skariachan; editing by Dave Zimmerman and Maureen Bavdek)
© Thomson Reuters 2022 All rights reserved.